This week for the Featured PE Teacher section on the PE Central Facebook page, the spotlight is on Carli Kelly: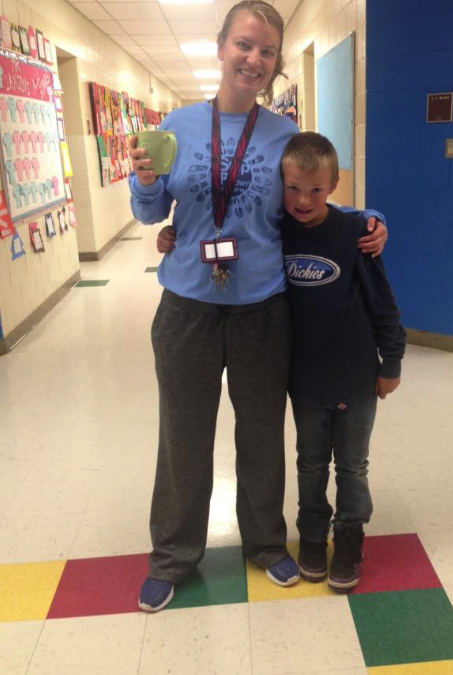 About Carli:
I teach Early Kindergarten – 6th grade PE and High School Health. I teach about 400 kids at Norway-Vulcan Area Schools in Michigan. My title is Physical Education/Health Teacher. This is my 8th year teaching!
Current Lesson Plan:
Right now in PE we are doing the EPEC Curriculum (Exemplary Physical Education) which is a Michigan PE curriculum. It is a comprehensive and flexible K-5 physical education and physical activity system leading to physical literacy for learners – More skill, more confidence and more motivation to be physically active today and tomorrow. There are 35 skills to teach that cover – Locomotor Skills, Object-Control Skills, Knowledge, Activity Fitness, and Personal/Social Skills. We are also working on Soccer skills, including Foot Dribbling and Instep Kick. For Middle School we are finishing up NFL Play60.
PE Focus for 2017:
This year, along with our new High School Teacher Mr. Sullivan, we are focusing more on fitness and moving our bodies, along with some skill work too. We are doing this because the obesity rate is growing and kids need to be more active. There is a lot of CrossFit for kids out there now. My Master's is in Physical Education and my last project was on the importance of exercises that cross the midline for elementary age children. I like to focus my warm-ups and/or cool-downs around that.
What is your favorite part of being a PE Teacher?
My favorite part of being a PE teacher is seeing all of the kids. It's fun getting all of the hugs and high fives! I love watching the students grow every year. I really enjoy every lesson. Every time a new skill or activity is taught, it is so much fun watching the kids improve and get better. I love seeing the joy on their faces when they excel at a skill.
Community Involvement:
I really believe it is very important for families to enjoy exercise together. We have many community events with running half marathons, 10Ks, 5Ks, and 1 mile or 2 mile fun runs. I give extra credit points for those kids that get involved! Not only do the students like to be involved but we have a number of teachers that are also involved.
More photos of students in my PE class!