Objective: To use "art" to enhance descriptive sentences using basic writing steps
Age: 5 +
Time: 30 minutes
Grades: 1-12
Materials:
Paper
Pencil
A painting (real painting or a print)
Clip-board (extra)
Easel to display print if needed, or trip to local art museum (optional)
Lesson Instructions
Practice the following steps before children try on their own.
Allow the students to observe a painting/ print for a few moments. Tell them to look at the colors, textures, lines, fore- ground and background for details.
Discuss aloud what they see and why it's important to notice the details.
Create a list of their responses.
Practice together before they try on their own.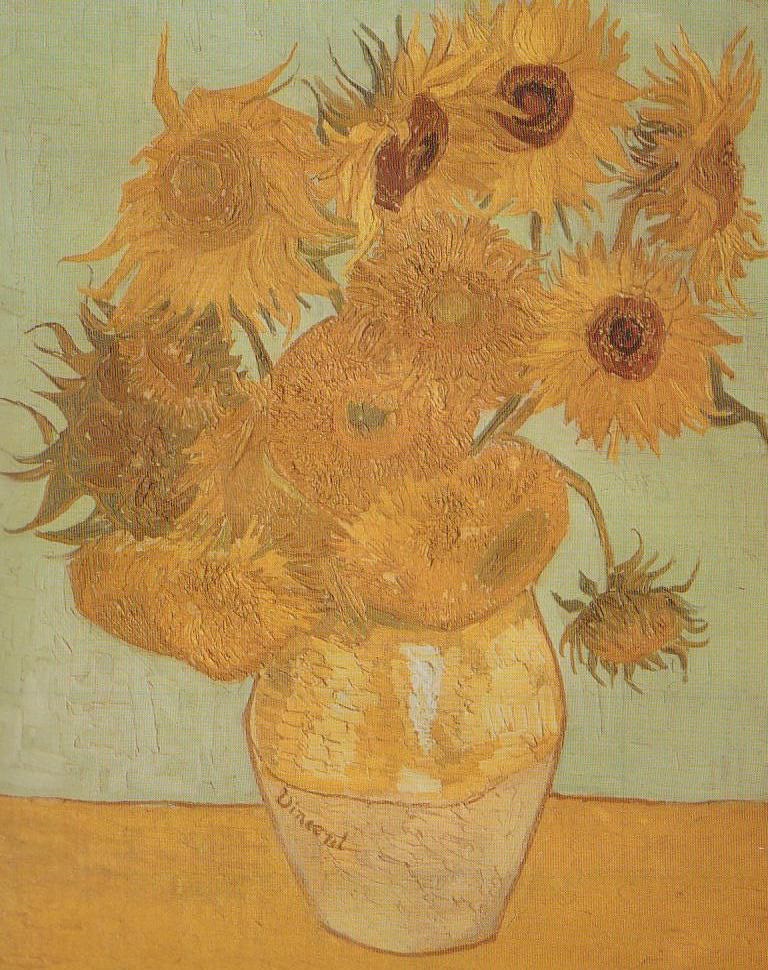 Create a Descriptive Paragraph Using Inventory Lists from a Painting/Print
Example: rounded vase, still vase, golden petals, drooping stems, pointy leaves, yellow flowers
When children are viewing works of art, it is imperative that they list all the details. As an example, remind the children that before they go to the grocery store they must first see what is missing in the refrigerator or cabinets, make a list, and then go shopping. Similarly, let the children create their own inventory list from specific art work. Encourage them to list what they see, rather than what they feel.
Depending on the age of your students, allow them to write/dictate descriptive words that describe what they see; creating an inventory list.
Use the inventory list to create descriptive paragraphs.
Suggest the importance of painting their writing with descriptive phrases in order to capture the reader's attention. Start the paragraph with the words, "I see". Remind the children not to begin every sentence with the words 'I see'.
Kids can print their own visual and color it. Have them create their own inventory list first, and then use the descriptive phrases to write their paragraph.
Example: I see a rounded, still vase resting upon the flat brown table. The golden, yellow petals lay still, attached to the long drooping stems. The pointy leaves look like outstretched fingers on my gentle hand.
Evaluation
Prior to the writing process, visual imagery can help stimulate and enhance student's descriptive writing in narrative and expository pieces. Decide what you are assessing (i.e. formulating ideas, use of descriptive words, perspective, vocabulary development). Move about the room, observing and listening. Record anecdotal notes and set time aside for conferencing as needed. General evaluations can include brief oral presentations and identifying the use of adjectives, verbs and nouns. No matter what your evaluation, be sure to inform the children of your expectations.
Other Ways to Use this Lesson
Begin your school year with this writing strategy and use it at least once a week. Begin with inventory lists, then gradually bridge into descriptive paragraphs. Remember, children's vocabulary becomes more descriptive when the teacher introduces new art media, visuals, shape, color, size and texture. These components mentioned will influence children's descriptions of their art work, hence, previous knowledge is combined with new information and vocabulary as one's oral and written vocabulary develops. Additionally, teachers can use art masterpieces as an historical teaching strategy; understanding art history and its culture.
A visit to an art museum would be most beneficial, but when field trips are not available, make it easier by using Artist prints, paintings in your room or school and even coloring pages. Depending upon the age, print the pages, color to match the artist's work or allow the children to use their imaginations and add their own colors. Suggest that each child describe what they 'see' and use their descriptions in a descriptive paragraph. You can use descriptive phrases with narrative writing, creative writing, and expository writing. Just choose your visual and relate it to previous knowledge. Write riddles or informational paragraphs as well.
Story Topics for Pieces of Art
What is happening in this work of art? What happened before this scene?
What happened after this scene? Let's change the plot or scene. Let's change the mood.
If you are focusing on verbs, adjectives, or nouns, encourage the children to highlight them separately in various colors, or even relate their descriptions to other things around them. Children may consider creating their own masterpiece using colored paper and cutting out various shapes to recreate a Mater Artist's work. Perhaps the children can illustrate their own. If you are studying 'flowers' then find a master artist that paints flowers and allow the children to explore their own creative potential, drawing on their previous knowledge as well.
Lastly, create a huge mural of a master artist picture and allow the whole class to color it in. Use this visual to inspire the entire class. You can do the same with prints as well. Just hang them in the room for the children to describe and you will be amazed at the different perspectives each one shares. Remember, when children learn to write through art, each one has the potential to enhance their motivation to learn and to develop respect for artistic value in our society. Enjoy!
---
About the Author:
Kim Waltmire is a state and national award-winning educator. She holds an honorary seat with the 2006 USA Today All-Star Teacher team. Kim is a graduate from CCSU with a Masters in Early Childhood Education. She published a writing & literacy book; Picturesque Writing, now self-published as The Art of Visual Writing for elementary teachers K-5. Kim also published a Read-Along Series for primary grades, coupled with spelling, grammar, science and social studies lessons for k-12 with a home-school company. Her writing and Project Based Learning strategies were recognized and published in the Creative Classroom Teacher's magazine; May/June 1998 issue. She was recognized for her educational contributions and Project Based Learning by Oprah Winfrey, interviewed on CNN, Fox News, and honored by the CT State Governor several times. Kim has taught elementary school for 28 years and presently an Educational Literacy Consultant. Kim's passion is teaching writing literacy for all learning styles.