Since May is Older Americans Month, schedule several fun activities throughout the month that pay tribute to your senior residents. Use a theme for Older Americans Month, like Age Out Loud as inspiration for some of your activities. Here are a few ideas from notjustbingo to help you honor your residents:
Birthday Party
Honor your most senior residents with a special birthday party, like a 90 & Over Birthday Bash that celebrates the nonagenarians and centenarians in your facility. Instead of your typical monthly birthday party, coordinate with Dining Services to host a birthday luncheon in your facility's Dining Room. Invite residents to dress up for this annual event as you celebrate the lives of your oldest residents, and encourage them to "Age Out Loud."
Transform the Dining Room for the event, making it into a festive environment by placing lots of colorful birthday balloons throughout. In addition, tie special Mylar birthday balloons to each of the residents' chairs who are being honored. A few days before the party, coordinate with Dining Services to provide a special menu for the event, featuring all of your residents' favorites. In addition, plan to serve a special birthday cake for the occasion that has plenty of birthday candles on top for decoration.
During the party, pass out party hats for all the residents to wear, but give special birthday tiaras to the female honorees. Adorn the male honorees with flower pins that can be worn on their jacket lapels. Present each of the honored guests with birthday cards that have been signed by staff members.
Scrapbooking Party
Help residents organize their life photos and mementos by planning a fun scrapbooking party. Take advantage of National Scrapbooking Day (May 6) by inviting the family members of residents to stop by with their photos that can also be scrapbooked. Pass out scrapbooking kits for residents to use for the project. In addition, supply scrapbooking supplies, like decorative paper, stickers, and metallic markers, for residents and family members to use to decorate their scrapbooks.
Story Circles
Encourage residents to share their life stories with others by participating in story circles. Throughout Older Americans Month, host a weekly story circle that focuses on a particular topic that residents can discuss, like victory gardens, women in the workforce, or military drafts. For the activity, seat residents in a large circle and go around the room, encouraging residents to share their experiences. If they need some help getting some stories started, they can use conversation cards or story cubes.
Interviews
Recruit volunteers to assist you with recording the stories of your residents. Ask questions about their childhood, like the names of their childhood friends or the name of their elementary school. Record the answers in journals that can be passed along to their children and grandchildren. Consider providing residents with their own journal books to make it easier for them to write down memorable facts as they come to them. In addition, if you have residents who keep in contact with their family members online, video the discussions and send the recorded sessions directly to their family members.
Intergenerational Activities
Encourage residents to share their knowledge and history with younger generations by hosting fun intergenerational activities. Plan a few fun play dates with the grandkids throughout the month in which residents and grandkids can make fun crafts or play games. For instance, set up an art station for participants to decorate frames with paint and stickers. For a more active session, use a toss-and-talk ball for residents and kids to toss back and forth while learning more about one another.
Entertainment
Finally, schedule your residents' favorite entertainers to perform for your residents. In fact, in keeping with the season, plan a Senior Prom and have residents get dressed up for a fun evening of dancing and socializing. During the event, encourage residents to teach the younger folks how to swing dance, do the jitterbug, and dance the Charleston.
About Not Just Bingo: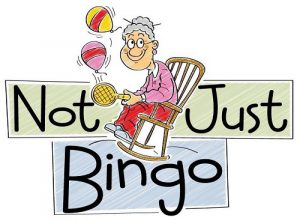 Not Just Bingo is an online resource of fun, senior activity ideas for activity professionals of nursing homes and assisted living facilities. They have been providing fun activity ideas online since 2009, and continue to assist activity professionals across the country by creating meaningful and engaging activity ideas for their residents that go "beyond bingo." Not Just Bingo feels privileged to help activity directors better the living experiences of their residents while demonstrating that a senior's quality of life can actually improve when they move to a nursing facility!
Want even more ideas each month? Visit www.notjustbingo.com for how-to activity ideas, monthly newsletters, and daily holiday ideas. You can also sign up for the Notjustbingo Membership to receive specialized activity ideas to keep your residents and staff engaged, active, and having fun!