California is the Across the USA theme for June! Host several activities for your residents throughout the month that honor The Golden State's famous landmarks. Here are a few ideas from notjustbingo to get you started.
Chinatown
With San Francisco's Chinatown being the oldest Chinatown in North America, honor the culture-rich enclave that spans 24 blocks in downtown San Francisco by making bracelets with residents using Chinese character beads. Also add in a few Chinese-themed games throughout June, like hosting a Chinese yo-yo competition or scheduling a Chinese Checkers tournament.
Sequoia National Park
Recognize the beautiful Sequoia National Park and California's state tree, the California Redwood – one of the world's longest living trees that can reach up to 379 feet tall – by recruiting a few residents to decorate wooden pine trees that can be used as decoration throughout your facility for this monthly tribute to California. In addition, host a tree-themed intergenerational activity by inviting the grandkids to make tree ornaments on a Saturday morning with Grandma and Grandpa.
Golden Gate Bridge
Honor the world's most photographed bridge, San Francisco's Golden Gate Bridge, by hosting a tactile activity for the men in which they build bridges using a bridge kit. Use the kit's instructions to allow each of the participants to build a different bridge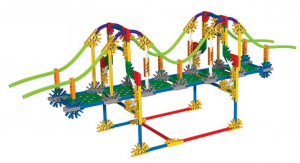 model to show-off the different structural designs of bridges.
Yosemite National Park
Since northern California's Yosemite National Park is one of the most famous national parks and camping sites in the country, host several camping activities for your residents throughout the month. For instance, plan a watercolor activity for residents to paint camping scenes or host a weekly camp crafting session in which you invite residents to make a different wooden camp craft each week. Finally, with
Yosemite also being known for its amazing waterfalls, treat residents to cascading waterfalls by showing them a waterfall DVD that features beautiful images and soothing sounds.
Hollywood
Schedule several activities throughout the month that involve Hollywood themes. For instance, during your regular movie night, host a Hollywood movie premiere instead. Encourage residents to dress up for the event and be sure to fill lots of popcorn bags to keep residents happily munching on popcorn. Another idea is to invite a local barber and beautician to your facility to give "Red Carpet Makeovers" to your residents. After the makeovers are complete, roll out your red carpet to take pictures of your residents walking down the carpet with their new looks. For your larger groups, consider hosting a movie trivia game challenge
or setting up a DVD for residents to learn more about their favorite Old Hollywood stars. Finally, set up your own Walk of Fame in your Activity Room by recruiting volunteers to assist you with typing up mini biographies or a few fun facts about each resident before framing and displaying them along the wall.
Santa Monica Pier
Dust off your carnival games and take advantage of the nice weather by turning your backyard into the 100-year-old Santa Monica Pier, located in southern California. Set up several toss games and have carnival tickets and stuffed animal prizes on hand to pass out to participants. Finally, provide fun carnival food for residents to enjoy, like donuts or waffles.
Conservatory of Flowers
With San Francisco's Conservatory of Flowers being one of the oldest conservatories in the United States, pay tribute to California's state flower, the Golden Poppy, by inviting residents to decorate flower pot covers for your summertime plants. Provide residents with the paint and brushes that come in the kit to paint beautiful flowers onto the covers. In addition, schedule a few one-on-one activities that relate to flowers. For example, challenge a resident to assist you with completing a flower puzzle that can be displayed in your Activity Room throughout this month that you are honoring California, or schedule a flower showing in a bedridden resident's room by playing a flower festival DVD for her to watch.
Painted Ladies
Recognize San Francisco's famous Painted Ladies by providing residents with wooden houses to paint in bright, vivid colors to resemble the beauty of the Victorian houses that are scattered throughout the city. Supply residents with the unique paint colors and either birdhouses or butterfly houses for the project.
About notjustbingo.com

notjustbingo.com is an online resource of fun, senior activity ideas for activity professionals of nursing homes and assisted living facilities. They have been providing fun activity ideas online since 2009, and we continue to assist activity professionals across the country by creating meaningful and engaging activity ideas for their residents that go "beyond bingo." Don't get them wrong – bingo is fun, but we want to spread the word that there is more to life than just bingo. Overall, notjustbingo.com feels privilege to help activity directors better the living experiences of their residents while demonstrating that a senior's quality of life can actually improve when they move to a nursing facility.
Want even more ideas each month? Sign up for the Notjustbingo Membership to receive specialized activity ideas to keep your residents and staff engaged, active, and having fun!