Celebrate the beautiful state of Maine as we continue our Across the USA theme for the month of October. As you schedule activities for the month, host events that are based upon Maine's legendary fall festivals, including Oktoberfest, Pumpkinfest, the Fall Foliage Festival, and the Ghostport Festival.
Oktoberfest
Host a fun Oktoberfest event for your residents that is similar to Maine's by setting up a beer garden on the back patio. Allow for residents to stop by to sample a variety of beer. If alcohol is not an option for your residents, provide nonalcoholic beer or even root beer floats for the tasting.
During the festival, provide pretzels for residents to enjoy with their beer. For instance, make mini pretzels for residents using a mini pretzel maker that they can enjoy with mustard. If you're short on time, however, simply string pretzels onto twine to make pretzel necklaces that can be given to residents to hang around their necks to snack on while they are enjoying their beer.
Finally, to cap off the fun Oktoberfest, coordinate with Dining Services to serve a delicious German dinner, including bratwurst and sauerkraut, in your facility's Dining Room. If possible, play Oktoberfest music during the meal for residents to enjoy.
Pumpkinfest
Celebrate this season of pumpkins by hosting a pumpkin festival for residents and their families in your facility's backyard. Schedule fun activities during the festival to keep residents engaged and having fun.
Before the festival begins, recruit residents to assist you with getting ready. For instance, gather a few residents to help stuff pumpkin lawn bags to set out throughout the yard for decoration. Also, the day before the festival, ask interested residents to bake pumpkin pies, pumpkin muffins, and pumpkin cookies to display at the festival for a Pumpkin Dessert Bake-Off. During the festival, ask your facility's administrators to judge the winning pumpkin desserts by awarding ribbons to the winners.
In addition, organize a few activities for the grandkids. For example, pass out pumpkin punch balls for residents and kids to have fun hitting. In addition, if you have lots of small children stopping by, invite your residents to assist the kids with playing a fun Pin the Nose on the Pumpkin game or with completing simple pumpkin jigsaw puzzles. Finally, pass out lots of cotton candy for the kids to eat, and give out pumpkin pencils as prizes.
Lastly, host a Pumpkin Carving Contest, in which residents and family members use pumpkin-carving tools to make unique pumpkins. If you are looking for an activity with less mess, consider hosting a Pumpkin Painting Contest, in which residents paint and decorate paper-mache pumpkins. Create a display table to showcase the finished pumpkins for staff members to vote on their favorites.
Fall Foliage Festival
Get residents into the autumn spirit by hosting a fun fall foliage festival. Beforehand, decorate your facility with lots of autumn leaf balloons and ask residents to wear their favorite autumn colors.
During the festival, set up several autumn-themed crafts for residents, like making wooden leaves using a wooden leaves craft kit or weaving autumn baskets that can be sold or given away at the festival.
Since the state flower of Maine is the White Pine Cone, invite residents to make several pine cone crafts during the festival, like felt pine cones or painted pine cones using paint, glitter, and natural pine cones.
In addition, provide a few small-group seasonal activities for residents that target different interests. For instance, for your more active residents, set up a football target in the backyard and have residents toss foam footballs through the target. For your more reserve residents, set up a New England DVD in your Activity Room for residents to admire and enjoy the beautiful picturesque scenes of autumn in New England.
Finally, since the state animal of Maine is the moose, set up a few moose jigsaw puzzles throughout your facility for residents to complete.
Ghostport Festival
Have fun with residents as you celebrate all the fun that comes with Halloween. Decide to transform your Activity Room into a haunted house for the day as you decorate with synthetic spiderwebs and hanging ghosts.
For this day-long festival, invite residents to decorate Halloween eye masks that they can wear for a fun Halloween-themed dinner. Another option is to have residents decorate masks that can be used as wall decorations for the upcoming holiday.
Other activities to schedule include a Halloween Beading Club activity, in which members of your facility's Beading Club make glow-in-the-dark bracelets, a Halloween Coloring Session, in which you pass out Halloween coloring books for the kids to color and download adult Halloween coloring pages for residents to color, or a Suspense Movie Night, in which you show Alfred Hitchcock movies for residents to enjoy.
About Not Just Bingo: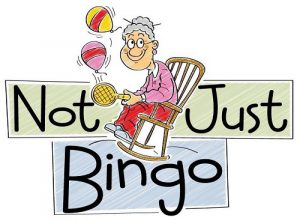 Not Just Bingo is an online resource of fun, senior activity ideas for activity professionals of nursing homes and assisted living facilities. They have been providing fun activity ideas online since 2009, and continue to assist activity professionals across the country by creating meaningful and engaging activity ideas for their residents that go "beyond bingo." Not Just Bingo feels privileged to help activity directors better the living experiences of their residents while demonstrating that a senior's quality of life can actually improve when they move to a nursing facility!
Want even more ideas each month? Sign up for the Notjustbingo Membership to receive specialized activity ideas to keep your residents and staff engaged, active, and having fun!