Host a fun event for your residents and their family members to enjoy on National Grandparents Day on Sunday, September 8th. Plan one or a few of the following special events from notjustbingo.com for your facility on this annual observance.
1. Pizza Bake-Off – Set up several toaster ovens in your Activity Room for teams of residents and their grandkids to compete in an English muffin pizza contest. Supply contestants with English muffins, a variety of cheeses and toppings, and tomato sauce for them to make the best-tasting pizza. Recruit a staff member to judge.
2. Biography Interviews – Supply the grandkids with interview questions for them to interview their grandparents. Collect the answers and compile them into a short biography for each resident. Residents will love having a copy, and you can keep one for your records.
3. Scrapbooking Session – Set up several scrapbooking stations throughout your facility as you encourage family members to bring old photos for them and their resident to scrapbook. Provide scrapbooking materials and memory boxes for residents and family members to use.
4. Video Recordings – For your residents who will not have family members present on National Grandparents Day, record them on video sharing interesting stories. If possible, gather the email addresses of the grandkids and assist your residents with recording and sending short, individual messages to each of their grandkids.
5. Mini Classes – Ask residents to share a specific skill or hobby with their family members and provide them with the supplies that they need. For instance, supply yarn and knitting needles to your resident who wants to teach her granddaughter how to knit, or provide an electric stovetop and ingredients to your resident who wants to teach her son how to make their favorite recipe.
6. Sing Along – Pass out musical instruments and song lyrics to family members to sing along with residents during a musical activity.
7. Floor Games – Set up a large area in your Activity Room for residents to teach their grandkids a few floor games that were popular in the 1930s and 1940s, like marbles or hopscotch.
8. Indoor Plantings – Organize a joint arts and crafts and gardening activity. Invite the grandkids to decorate flower pots, then residents can show them how to plant Forget-Me-Nots, the official flower of National Grandparents Day.
9. Gift Exchange – Invite the grandkids and residents to make arts and crafts projects, like wooden keepsake boxes to paint and exchange with their loved one.
---
About Not Just Bingo: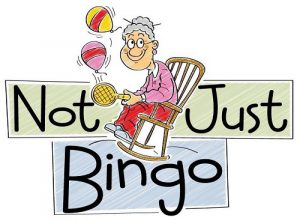 Not Just Bingo is an online resource of fun, senior activity ideas for activity professionals of nursing homes and assisted living facilities. They have been providing fun activity ideas online since 2009, and continue to assist activity professionals across the country by creating meaningful and engaging activity ideas for their residents that go "beyond bingo." Not Just Bingo feels privileged to help activity directors better the living experiences of their residents while demonstrating that a senior's quality of life can actually improve when they move to a nursing facility!
Want even more ideas each month? Sign up for the Notjustbingo Membership to receive specialized activity ideas to keep your residents and staff engaged, active, and having fun!