If you are finding that your facility's newest residents are avoiding your activities because they don't know anyone, then try adding several social games to your monthly calendar. Here are 6 types of social games to schedule for your activity program.
Puzzle Games
Since a lot of residents enjoy doing their own crossword puzzles and word search puzzles, consider hosting a fun crossword puzzle or word search puzzle contest. To play, simply provide pencils and copies of the puzzle to each resident to see who will be first to complete the puzzle. Be sure to provide fun prizes for the winners to encourage repeat participants each time you host the activity. For the activity, use large-print crossword puzzle books.
Conversation Games
Residents will quickly learn more about one another by playing fun conversation games. For instance, playing games like Table Topics, Chat Pack, or Table Talk, where you ask fun questions about your residents likes, dislikes, and past experiences, will allow your new residents to introduce themselves while playing the game.
Another fun conversation game is You Be the Judge. With that game, residents are able to pretend that they are the judges and are able to share their decisions and perspectives about real life court cases.
Nostalgic Games
Help your new residents share information about their background with others by playing fun nostalgic games. For instance, pass around black and white photos to have residents reminisce about past events and occurrences. In addition, use seasonal cards, like autumn cards, to help residents recall their past traditions during each of the seasons.
Card Games
Additionally, invite your newest residents to participate in the card games that they enjoy. Simply set up card clubs that meet each week so that your new residents can bond with other residents who enjoy playing the same games. Use easy-to-read cards for fun clubs like a Bridge Club, a Pinochle Club, or even a Poker Club.
Bingo Games
Since most residents enjoy bingo, consider adding a few fun bingo games for your residents. For instance, play a familiar face bingo where residents identify Old Hollywood celebrities on their bingo cards, or TV show bingo where residents identify retro television shows from the 1950s and 1960s.
Another bingo-like option is the fun game of Pokeno where residents play bingo using playing cards.
Sporting Games
In addition, use some of your new residents' favorite sports as ideas for fun games. Add in their favorite hobbies and games as fun tournaments, like hosting a bowling tournament, a shuffleboard tournament, or a golf tournament.
About Not Just Bingo: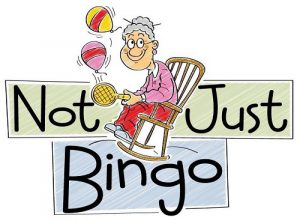 Not Just Bingo is an online resource of fun, senior activity ideas for activity professionals of nursing homes and assisted living facilities. They have been providing fun activity ideas online since 2009, and continue to assist activity professionals across the country by creating meaningful and engaging activity ideas for their residents that go "beyond bingo." Not Just Bingo feels privileged to help activity directors better the living experiences of their residents while demonstrating that a senior's quality of life can actually improve when they move to a nursing facility!
Want even more ideas each month? Visit www.notjustbingo.com for how-to activity ideas, monthly newsletters, and daily holiday ideas. You can also sign up for the Notjustbingo Membership to receive specialized activity ideas to keep your residents and staff engaged, active, and having fun!