Since every season is bingo season at a nursing home or assisted living facility, be sure that you have all the needed bingo equipment to help your bingo games run smoothly year round. Consider using these 5 accessories for your next bingo game:
1. Large-Print Bingo Cards
Help your residents become more independent while playing bingo by providing them with large-print bingo cards that they can easily mark without assistance.
2. Bingo Calling Board
Eliminate the need to stop in the middle of a bingo game to repeat what was called for your late-arriving players by using a bingo calling board. Simply attach the board to a wall, and use the static cling markers to cover the bingo numbers that have already been called.
3. Bingo Calling Cards
Do you have residents who would like to play bingo when you or your staff are not around? Then train a few of your residents to use bingo calling cards to call the games, where they only have to shuffle the deck and flip a card to reveal the bingo number.
4. Lucky Bingo Cups
Add a bit of fun to one of your weekly bingo games by hosting a drink night, like a Virgin Daiquiri Bingo Night or a Fruity Punch Bingo Night, where you serve the drinks in lucky bingo cups. Collect the cups at the end of the activity to wash and reuse for the following week where you feature a different drink.
5. Large Bingo Chips
Provide residents with large bingo chips to make it easy for residents to pick up and place on their bingo cards. Use the red chips so that residents clearly see what numbers they still need for a bingo.
6. Magnetic Bingo Cards
Ever have a resident accidentally hit their bingo card causing their bingo chips to fall off the card? If you have occasional accidents during your bingo games, then provide residents with magnetic bingo cards to keep their bingo chips in place. With the magnetic chips, residents can even lift up their bingo cards to show others how many more chips they need before getting bingo.
Find more ideas from Notjustbingo on the S&S blog here.
---
About Not Just Bingo: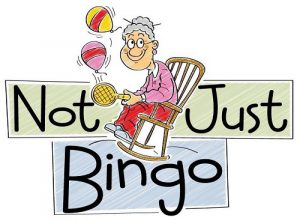 Not Just Bingo is an online resource of fun, senior activity ideas for activity professionals of nursing homes and assisted living facilities. They have been providing fun activity ideas online since 2009, and continue to assist activity professionals across the country by creating meaningful and engaging activity ideas for their residents that go "beyond bingo." Not Just Bingo feels privileged to help activity directors better the living experiences of their residents while demonstrating that a senior's quality of life can actually improve when they move to a nursing facility!
Want even more ideas each month? Sign up for the Not Just Bingo Membership to receive specialized activity ideas to keep your residents and staff engaged, active, and having fun!