Add these 3 beach props to your senior exercise class in the summer months to help keep your facility active. Our friends at notjustbingo.com have shared some ways to use beach balls, pails, and towels.
1. Beach Balls
Beach balls are great for doing exercise with seniors, as they are lightweight and easy to use. Use the regular-sized beach balls for ball-throwing exercises in your Exercise Class. Consider using giant beach balls to help residents build up their arm strength as they push the ball back and forth to one another in a large circle. The giant beach ball is also great for leg exercises to help seated residents build up their leg muscles as they lift both legs to push the ball with their feet.
2. Beach Pails
Use plastic beach pails as weights for your residents to lift. Simply fill the pails with small rocks, change, or even sand, and encourage residents to build up their bicep muscles.
3. Beach Towels
Use beach towels to help residents stretch their arms. Show residents how to grab the ends of the towel as they extend their arms out and over their head. Encourage residents to keep holding onto the towel as they stretch their core by bending to the left and to the right.
About Not Just Bingo: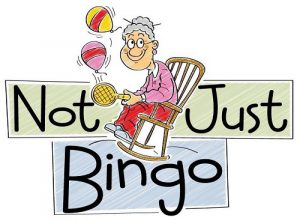 Not Just Bingo is an online resource of fun, senior activity ideas for activity professionals of nursing homes and assisted living facilities. They have been providing fun activity ideas online since 2009, and continue to assist activity professionals across the country by creating meaningful and engaging activity ideas for their residents that go "beyond bingo." Not Just Bingo feels privileged to help activity directors better the living experiences of their residents while demonstrating that a senior's quality of life can actually improve when they move to a nursing facility!
Want even more ideas each month? Visit www.notjustbingo.com for how-to activity ideas, monthly newsletters, and daily holiday ideas. You can also sign up for the Notjustbingo Membership to receive specialized activity ideas to keep your residents and staff engaged, active, and having fun!