As the trick-or-treaters are getting dressed up in their costumes and ready to gather candy and other treats, we start to look ahead to the next fall holiday, Thanksgiving. Add some creativity to your festivities with these fun fall crafts, decorations and activities without breaking the bank. Check out our favorite Fall and Thanksgiving themed crafts and activities.
Pinecone Owls & Turkeys
Use pinecones and pieces of felt or foam sheets to create cute pine cone animals like the owls featured below. Then add wiggly eyes too! Or make handprint turkeys in your classroom with pine cone bodies using fall colored construction paper.
Painted Wood Leaf Charms
These wood charms are super cute for the fall season! Accent and embellish all types of crafts with these charming painted wood leaf "charms". Each is pre-drilled so tying them onto any craft or jewelry project is easy. You can also glue them onto craft surfaces for added dimension and detail. The pack includes 9 different leaf shapes, 30 pieces of each for a total of 270 pieces.
Paper Turkeys
Another unique place setting idea is the Tom and Tina Turkey craft kit. The pre-printed construction paper makes this a simple craft for all ages. The pack includes cones, wiggly eyes, construction paper, glue, paint, felt, foam brushes, and instructions. There are supplies to make 24, enough for your entire group!
Decorative Items
Thanksgiving also would not be complete without some bright, fall colored decorations. Our Thanksgiving Value Pack comes with 25 pieces, including two 5′ fire-resistant Thanksgiving banners, three 25″ turkey cutouts, two 24″ pumpkin cutouts and more! You can also use one of our Fall decoration packs as well!
Add even more decorations with a cornstalk and leaf garland. Set the table with seating place cards with a blank area on one side for you to write the name of your guest, and the other side has a phrase such as I'm Thankful for…" where the guest can write their personal sentiment.
Color Diffusing
A fun fall craft that can be used for decoration are these color diffusing flowers. Made of paper with a special texture that draws colors in and blends them into interesting patterns and swirls, this kit includes 4 styles of flowers and a total of 80 flowers in the pack. Perfect for use with our Color Splash!® Liquid Watercolor. It is a fascinating way to experiment with color blending and easy to clean when complete. Use fall colors like orange, red, and yellow! View the step by step blog tutorial here.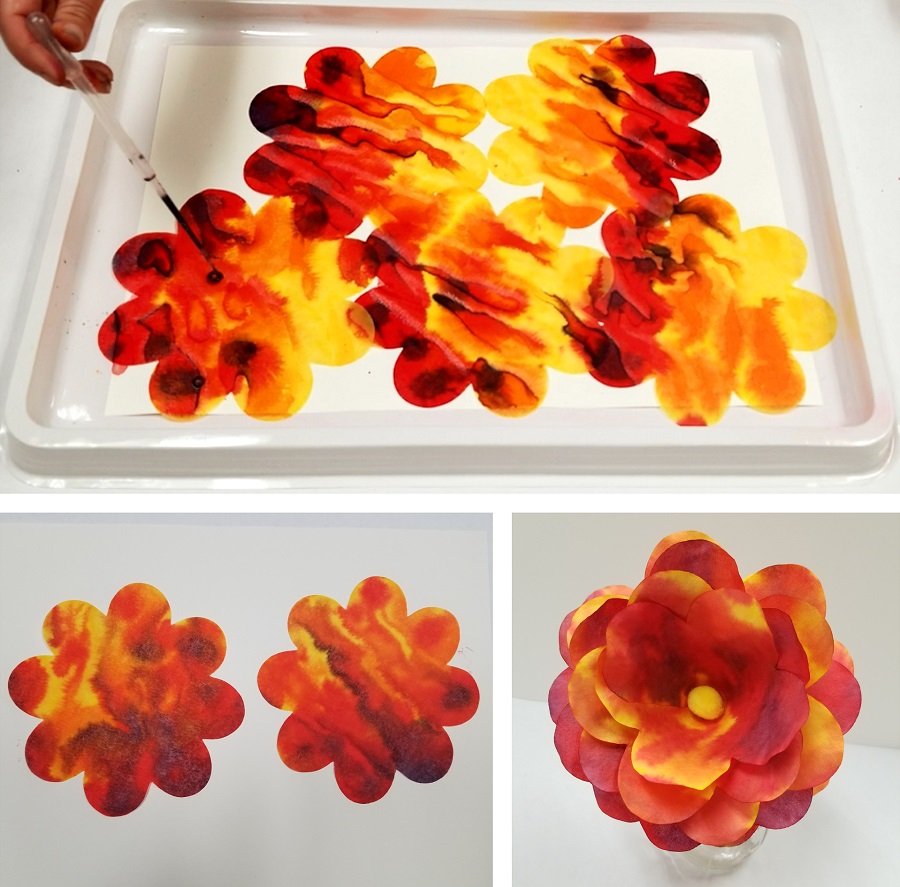 Owl Banks
Our Color-Me™ Ceramic Owl Banks are sure to be a hoot this Fall! This is a fun activity for the whole family to enjoy. Parents can teach kids the importance of saving while they color their owls. Adults can have fun painting them too, and use them as a Thanksgiving and Fall decoration.
Wood Leaves
Another fall option is our wooden leaf necklace craft kit which includes markers and jute. There are so many fun ways you can decorate these and display them for a Fall or Thanksgiving decoration. Your group can color the leaves with the markers included, then add beads and jute string to make necklaces or string them all together for one long decoration. Click here for a DIY tutorial. You can also coat them first with acrylic paint and ask guests to write (with a sharpie marker) what they are thankful for.
Festive Balloons
Last but not least, what party is complete without balloons? Grab these autumn balloons to add some fun pops of color to a large room.
Faux Maple Leaves
Looking for a simple centerpiece for your holiday table? Try faux maple leaves in a clear glass vase. You can also use these leaves or our printed leaves to make a fall wreath, or paint them with gold or glitter to add an even more crafty look. View the examples below, plus find more on Pinterest!
IN STOCK SOON:
We have this cute turkey item that will be in stock soon! See the featured item below.
Wood Turkeys
Looking for a handmade centerpiece that is also a fun craft activity? This unfinished wooden turkey is ready to be decorated with your holiday message. It comes in a pack of 6, so you can gather everyone into small groups and have them work together to paint the turkey and write what they are thankful for. The finished projects make great place settings!
View our entire selection of Fall & Thanksgiving crafts, activities, and decorations. 
How do you get in the holiday spirit and what are some of your simple ways to decorate for fall? Share your creative ideas and traditions in the comment area below.