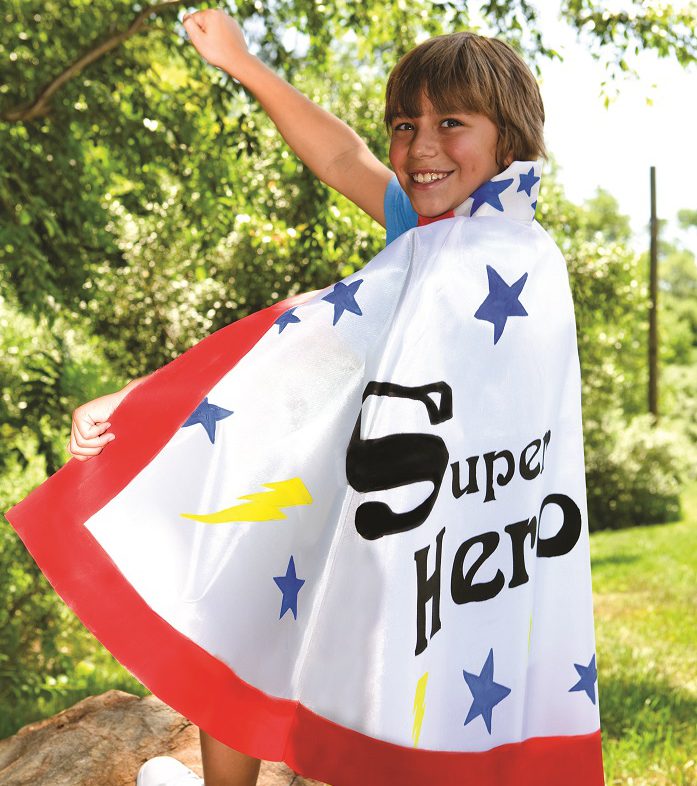 Kids Krew is a summer camp program at the Hilton Sandestin Beach Golf Resort & Spa where kids can experience fun activities like slip-and-slide, flying kites, sand sculpting, and other adventures. Alexandria Rowe is the Recreation Manager for the hotel, and she has shared with us a fun super hero activity she created using our Color-Me™ Superhero Capes!
At Kids Krew we were so inspired by the overwhelming popularity of television and movie superheroes, we created our own crime fighting story featuring Sunny the Hilton Sea Turtle.
Caped Crusaders set out on a mission to save our beloved Sunny the Sea Turtle!
Kids ages 5 to 12 can join us every Friday for "Kids Night Out – Crime Fighting Edition" where they have the chance to create their own superhero identity, complete with cape and mask. Our Sunny the Sea Turtle Caper is a kid favorite adventure because we keep them engaged with a variety of activities throughout the evening. From inventing their superhero identity to bringing it to life with the Color-Me™ Superhero Capes, the kids have the chance to break the ice and get to know each other and their counselors. They loved personalizing their own capes!
Each camp counselor has a Kids Krew funside name that they go by. I am Abracadabra Alex. The kids are divided into different groups with the counselors for their mission. The photos below are of Mustang Miguel and Jupiter Jhanelle in their decorative superhero capes.
We use Skype on our 50 inch smart television to emphasize the "mission our boss needs completed." The mission being of course to help rescue Sunny the Sea Turtle from the Pollution Villains. As the mission continues along, the children are tasked with solving clues that involve performing specific acts, like word scrambles and minute to win it games. Some clues even share environmental facts about sea turtle conservation for Northwest Florida, a topic very near and dear to Sunny's heart.
Eventually the children find Sunny and rescue him based on the clues laid out by our recreation team and counselors. We have expanded our crime fighting Friday nights beyond just saving Sunny. Occasionally we bring more commonly known superheroes to save the entire Hilton Sandestin Beach hotel. Teaming up with the Justice League and the Avengers, our junior caped crusaders solve clues left behind by evil villains in order to save the hotel.
About the Author:
Alexandria Rowe has been the Recreation Manager at the Hilton Sandestin for 13 years.  Creating fun and interactive children's programs, hosting team building events and creating fun family activities for resort guests are just many of the responsibilities for Alexandria Rowe.  She was worked in afterschool care programs, children's recreation centers and Norwegian Cruise Line; thus expanding her recreation knowledge.
Visit the Hilton Sandestin Facebook and Twitter page to learn more.