This week for the Featured PE Teacher section on the PE Central Facebook page, the spotlight is on Kash Aleem: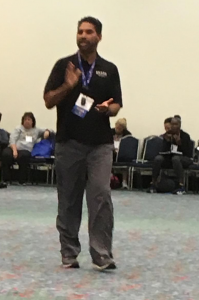 About Kash:
I teach Physical Education for grades K-5 at MayDell Jenks Elementary in Texas. I have been teaching for 10 years. My class sizes vary from 110-160 students.
Current Lesson Plan/Unit:
We are currently working on hockey skills. In the southern region of Texas, hockey skills are not exposed that much and I want my students to have that exposure. Students are learning individual skills, partner passing and shooting skills and group activities to work on all the skills combined.
                                 PE Focus for 2017
Our focus for the year is Coordinated School Health. A coordinated effort from the entire school and community to ensure that students are healthy for a lifetime. I really wanted our school and community to have a direct impact on our student's health choices and behaviors. If we can change the environment are students are in towards more healthy choices and behaviors, students will have higher chance to be healthy when they get older.
Favorite Lesson Plan/Unit
My favorite is Fitness activities – this is what it is all about! Students need to learn the fundamentals of fitness so as they grow older, they have many choices of fitness activities that they enjoy and that they can perform for an entire lifetime. Fitness is an area which many Americans don't have proper knowledge or think is too much work. We use activities that are enjoyable and that will encourage our students to be fitness lovers.
What is your favorite part about being a PE Teacher?
I enjoy everything, but the one thing I love more than anything is when I hear my students tell me how much they love PE. I also love when they can tell me what they have learned and I see them implement those skills outside of school.