Countdown to Father's Day – Nursing Facility Activities
Father's Day is fast approaching. While we tend to make a bigger deal about Mother's Day than Father's Day, here are a few ways to step-up your efforts for the men in your facility. Just follow a few of these tips to provide a full week of activities to celebrate the fathers in your facility.
Sunday, June 13
Invite the men to start off the Father's Day week-long tribute by honoring others through volunteering their time and service. Coordinate a few projects in your facility for the men to work on, like assembling care packages for troops or assembling toys to donate to the kids at a local homeless shelter.
Monday, June 14
Turn Monday into a day packed with fun gaming opportunities for the men. Host a casino night for the men to play poker and Black Jack or other casino games. Afterwards, teach them a few unique card games like Uno or Phase 10.
Tuesday, June 15
Have fun on Tuesday with the male residents by giving them classes for making different items. For example, host a fun "Baking With the Men" activity in which they work together to bake a cake in your Activity Room. Be sure to arrange the chairs to have your female residents observe and give tips and pointers! In addition, provide the men with a few food-making kits, like root beer floats and an ice cream maker to make a tasty dessert.
Wednesday, June 16
Celebrate this Wednesday with the men by decorating for your upcoming Father's Day festivities. Invite residents to assist you with hanging the garlands, setting out the centerpieces, making signs, and planning other party decorations.
Thursday, June 17
Use Thursday as a day to focus on building. Appeal to the "fix-it" nature of the men by providing projects for them to tinker with and build upon. For example, plan for them to assemble your new activity cart or tinker with that uneven table in your Activity Room. Supply inexpensive wood crafts for the men to assemble and paint, like car kits, birdhouse kits, or even storage kits for your activity department.
Friday, June 18
Enjoy Friday as the day for fun. If weather and circumstances permit, have residents spend time outdoors to enjoy the beautiful weather by going on a fun fishing trip, a trip to the park to feed the birds, or a trip to the local pub for a fun happy hour. If leaving your facility is not an option, schedule a fun dominoes tournament on the back patio or play a fun game of horseshoes in the backyard.
Saturday, June 19
Make Saturday the day to focus on competition. Have fun with residents as you schedule contests throughout the day, like a tie-tying contest in which the men, along with their assigned partner, must tie the other's tie at the same time, while using only one hand.
Another contest to organize is a baby-changing relay race – after all, we are celebrating Father's Day! For the relay, create two or three teams of men who must race to the table, change the clothes and diaper of the baby before racing back to the next team member to hand-off the baby. Declare the first team who completes their baby-changing relay first as the winner! Be sure to award trophies to the winners of your contests.
Sunday, June 20
Father's Day is finally here! So make today the day to focus on family. Invite the family members of the residents for a fun barbecue that features hot dogs and hamburgers. Set up several games for the visiting grandkids to play, like croquet or badminton.
After the lunch, host a scrapbooking party for the men and their family members to use supplies (like scrapbook paper or stickers) to create their own scrapbooks or photo albums together. Set up several tables for the families to work together in preserving their memories. In addition, provide journals for residents to record their family genealogy.
Find more ideas from Notjustbingo on the S&S blog here.
---
About Not Just Bingo: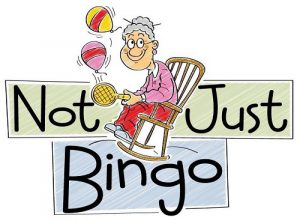 Not Just Bingo is an online resource of fun, senior activity ideas for activity professionals of nursing homes and assisted living facilities. They have been providing fun activity ideas online since 2009, and continue to assist activity professionals across the country by creating meaningful and engaging activity ideas for their residents that go "beyond bingo." Not Just Bingo feels privileged to help activity directors better the living experiences of their residents while demonstrating that a senior's quality of life can actually improve when they move to a nursing facility!
Want even more ideas each month? Visit www.notjustbingo.com for how-to activity ideas, monthly newsletters, and daily holiday ideas. You can also sign up for the Notjustbingo Membership to receive specialized activity ideas to keep your residents and staff engaged, active, and having fun!