If you teach children in a church setting, I'm sure you would love to hear positive phrases from the young ones that you teach, like "This is the best day ever!" or "When do we get to come to church again?" and the ultimate is "I love coming here!". Here are two lesson extension ideas that were a bit hit with my preschool class and their parents, at our church in Dripping Springs, Texas called Austin Ridge Bible Church.
Building a Temple Wall
Lesson:
We are studying the building and ultimate destruction/re-building of the temple wall in Nehemiah and Ezra. The main point of the lesson for our preschoolers was that God helped His people rebuild the temple in spite of the enemies that tried to stop them. He even used King Darius to finance the project and to keep them safe. They kept building, and when it was done they had a big party and thanked God.
We talked about how God's people re-built the temple so they would have a place to worship God. And how years later, God sent His Son, Jesus to be with His people on the Earth. People don't need to go to a temple anymore to meet with God, because Jesus is with us wherever we go. We even re-enacted the enemies with some of the leaders trying to knock down parts of it and had a king's helper keep them away.
Activity:
I decided it would be loads of fun for the kids to build a life sized 3 sided temple wall with cardboard boxes. I used several medium-sized moving boxes. The number of boxes needed really depends on how big you want to build your wall and boat. We went really big with our wall!
The only other supplies you need are box cutters and strapping tape. You can choose to have kids decorate the temple, though we knew ours was going to be deconstructed at the end of the class, since we are a portable church that meets in a school and school was still in session. We actually put the boxes together before the kids arrived, and the wall got constructed with them, which was the most fun part…closely followed by knocking down the walls! We had our lesson, snack, and worship song time that day inside the temple.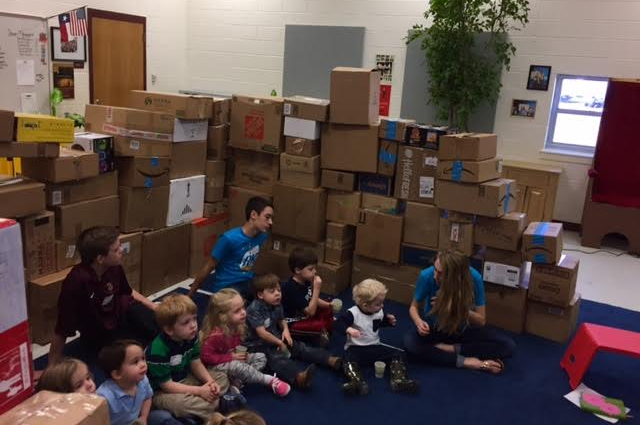 Building a Fishing Boat
Lesson:
We were getting ready to teach some of the parables that Jesus taught to people. Since the Bible tells us in Mark 4 that Jesus actually taught some of the parables from a boat while crowds sat on the shore, we thought it would be fun to stand in the boat and teach like Jesus did, and also to fish off the side with our magnetic fish poles and fish. It wasn't so much that we were actually teaching a concept to the kids, but trying to "put flesh" on what we read in the Bible and make it fun and concrete as well.
Activity:
Since Jesus often taught folks from a fishing boat as crowds sat on the shore, we made a cardboard boat for the classroom out of boxes. After a bit of time of designing our boat on paper, we worked to make sure it was simple and yet looked like a boat. We determined that at least 4 boxes were needed. It is always good to have extras, just in case. We used one box each for the front, middle and back end. As we thought through the design, we decided that the top needed to be open on the middle and front, so we could stand in either, but that the back end could be closed on the top and used as a crawl through. Also we also left the front of the boat without a bottom to make it easier to construct, since we knew it was going to have curved sides and weren't sure how that would work.
First we started with the middle box and worked out the front. We cut open 2 of the boxes to make the sides and started duct taping. One person would hold the sides together and another would tape. We decided we would tape everything both on the inside seams as well as the outside for extra strength. We attached the front of the boat to the middle box, and then used a boxcutter knife to make an arched opening that would lead to the front. We then cut another opening that would lead to the back box and taped the back box to the middle one.
Safety Tip: We made sure there were no rough edges of cardboard by covering all of the edges with duct tape so that noone would get a paper cut when crawling through.
After the boat was constructed, we determined it needed a removable sail! We used two yardsticks and wrapped heavy duty VELCRO® around the end, and a square piece of it on each of outside of the middle box. We duct taped a white king sized pillowcase to the yard sticks, and attached to the VELCRO® for our sail.
We then allowed the kids to decorate the fishing boat with markers, stickers, and dot markers. We were able to keep the boat in the classroom for weeks since it was summer vacation and we could leave our stuff in the classroom. The kids decided that the best part of having a fishing boat in our class is fishing off the side of it with our fishing poles and magnetic fish!
As I mentioned before, these two activities rank highest in everyone's favorite memories for our preschool class to date. They do take a bit of work, but the payoff is certainly there. I recall parents having to beg and/or bribe their kids to leave our class on both occasions when the service was over, and kids saying that it was the BEST day of their lives! This is how you make going to church FUN for little ones!
About the Author:
Lisa Baker is a retired 5th/6th grade teacher. She is also the mother of two grown sons and a sweet Morkie puppy, currently residing in Dripping Springs, TX, which is 30 minutes west of Austin. She started her own business as a children's entertainer and storyteller, and entertained in local bookstores, churches, schools, events, and birthday parties for many years. Lisa currently volunteers in her local library for story times several times a month, as well as teach preschool at her church, Austin Ridge-Dripping Springs.