Need some creative ideas to celebrate Christmas with residents at your nursing facility? Our friends at notjustbingo.com have shared these 10 holiday activities for you to try:
Start the day off when a special parade viewing party in your Activity Room as you encourage residents to watch the annual Christmas Parade at Walt Disney World on your television. Supply residents with juice and muffins to enjoy while watching the parade. Afterwards, help residents stay in the holiday mood by going door-to-door caroling to share holiday cheer with your facility's bedridden residents. For those residents who would prefer to hang out in your Activity Room during the day, recruit them to make arts and crafts projects like holiday ornaments with beaded ornament craft kits or even participating in a Christmas gingerbread house contest by using gingerbread house craft kits. Be sure to award holiday candy as a prize for the resident with the best gingerbread house!
For your computer-savvy residents, schedule online holiday visits throughout the day by arranging for residents to speak with distant family members on Skype or Google Hangout. In addition, for your lower-functioning residents, invite them to pass around their holiday cards in your Activity Room as they show-off and share their Christmas cards with other residents.
As for afternoon activities, add pleasant aromas to your facility that even your facility's visitors will enjoy. For instance, pass out popcorn in popcorn bags to residents as they watch Christmas movies, like A Christmas Carol or even Tchaikovsky's ballet The Nutcracker on DVD. Set out baking supplies for your facility's Baking Club to bake gingerbread cookies. Finally, after the sun sets, take residents on a holiday scenic ride to view the holiday lights or, as a nightcap, invite residents to participate in a Christmas carol sing-along in your facility's living room.
Tell us your favorite way to spend the holidays with your nursing home residents. Leave a comment below!
Find more ideas from Notjustbingo on the S&S blog here.
---
About Not Just Bingo: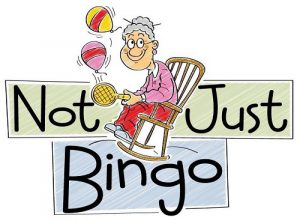 Not Just Bingo is an online resource of fun, senior activity ideas for activity professionals of nursing homes and assisted living facilities. They have been providing fun activity ideas online since 2009, and continue to assist activity professionals across the country by creating meaningful and engaging activity ideas for their residents that go "beyond bingo." Not Just Bingo feels privileged to help activity directors better the living experiences of their residents while demonstrating that a senior's quality of life can actually improve when they move to a nursing facility!
Want even more ideas each month? Sign up for the Not Just Bingo Membership to receive specialized activity ideas to keep your residents and staff engaged, active, and having fun!