If you're looking for a few Olfactory (sense of smell) activities for your Alzheimer's residents then keep reading to learn 9 easy-to-implement activity ideas to add to your senior activity calendar.
1. Name That Smell
Blindfold residents as you place dried spices from your facility's kitchen into small cups or jars for residents to pass around and smell. See if they can identify common spices like cinnamon, sage, rosemary, and thyme. You can use everyday objects as well, like rubber bands. You can also put cotton balls inside the jars with a few drops of essential oils on them, to create a blind smell test where you remove the visual clues. 
2. Make Potpourri Sachets
Provide residents with sachets to fill with dried flowers to create potpourri sachets that they can place in their closets and drawers. Beforehand, assist residents with gathering fresh flowers, picking off their petals, and drying out the petals for this potpourri activity. You can even incorporate this idea into a stitching craft activity like this cute stitchable bird craft kit. You can fill with dried lavender or other dried flowers/herbs, mixed in with the poly-fill stuffing. Or simply add cotton balls scented with essential oils in with the poly-fill stuffing that comes with the kit. 
3. Play Scented Dough Pictionary
Use scented clay to play a fun game of scented dough Pictionary. To play, provide a resident with a ball of the scented clay to shape into a simple object (an apple, a cat, a bowl, etc.) to see if the other residents can guess what it is.
4. Give Hand Massages
Invite residents for free hand massages in your Activity Room as you use an aromatherapy lotion to massage their hands. Have a sign up sheet and bring a timer so you can keep on schedule to make sure everyone gets a turn. You can have residents soak their hands in a warm water mixed with hand lotion or essential oils to start the relaxation process as they wait for their message. To do this, set up plastic dish pans right on the table top with a towel underneath. Try soothing music to set the tone to calm and relaxed. 
5. Play Fragrance Bingo
Teach residents how to play a fun game of Fragrance Bingo, where residents try to match aromas to their cards.
6. Make Aromatherapy Pendants
Host a craft session to teach residents how to make aromatherapy pendants  by stringing clay pendants onto cording and adding essential oils to the pendants.
7. Make Scratch-and-Sniff Stickers
Recruit residents to make scratch-and-sniff stickers for their grandchildren by adding essential oils to these adorable & absorbent felt button stickers. Encourage residents to send the stickers to their grandchildren as fun Back-to-School gifts or use as scented embellishments for card making activities.
8. Reminisce About Yesteryear
Familiar scents help to trigger memories of the past. Reminisce with residents about their former chores/ daily tasks like working in the garden or working in the tool shed by passing around smelling jars of familiar scents. During the activity, encourage residents to describe their gardens and tool sheds and how often they would work in them.
9. Host a Bread-Baking Class
Schedule a bread-baking class for residents to assist you with mixing ingredients to make bread using a bread machine. After the bread has baked and its aroma has filled the area, host a bread-tasting party for residents to sample their creation. Provide chef hats for the participating residents for extra fun! 
Find additional aromatherapy ideas for seniors here!
---
About Not Just Bingo: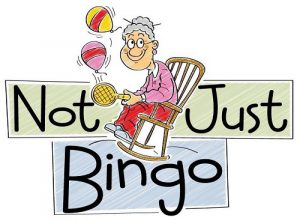 Not Just Bingo is an online resource of fun, senior activity ideas for activity professionals of nursing homes and assisted living facilities. They have been providing fun activity ideas online since 2009, and continue to assist activity professionals across the country by creating meaningful and engaging activity ideas for their residents that go "beyond bingo." Not Just Bingo feels privileged to help activity directors better the living experiences of their residents while demonstrating that a senior's quality of life can actually improve when they move to a nursing facility!
Want even more ideas each month? Sign up for the Notjustbingo Membership to receive specialized activity ideas to keep your residents and staff engaged, active, and having fun!