Being a teacher or activity director is hard work. From planning to managing student behavior, there is a myriad of requirements that make this job hard when done right.  Now, we have a new element to add to this already hard job: teaching and planning activities in a socially distanced atmosphere. It is no longer safe to do whole group games or some typical learning activities where students are in large groups or sharing equipment regularly. Thus, we need to ramp our creativity up a notch and work a little harder to come up with learning activities that socially distance friendly. Below are some ideas. These ideas take into assumption you are following state, district, and school policy for the safety of the students. For equipment ideas, check out this article.
Lawn Games
Lawn Games are fun for carnivals and summertime. But they are fantastic for socially distancing students. Games like corn hole, croquet, ring toss, horseshoes, mini-golf, Frisbees, shuffleboard, and other classics are not only fun, but you can teach multiple subjects with them safely.
For example, with cornhole, you can have students stand six feet apart to throw the bean bag at the hole. And each student retrieves their own beanbag after each player has taken their turns. You are teaching underhand throwing playing this game. A mini-golf course is excellent because students carry the same equipment around to each hole, so there is no equipment swapping. Plus, students can easily stay six feet apart while playing. In mini-golf, you are teaching striking with a long-handled implement.  Apply this notion of using the same equipment and six feet distancing between students to most lawn games, and they work great in a socially distanced learning environment. Plus, many of these games can be done outdoors, which experts say is safer because of lower transmission rates. See more lawn game and outdoor game ideas here.
Chair Bingo
The game Chair Bingo is fun, and the children can play together while in their own space. While it is named chair bingo, you do not need to be in a chair to play.  Students can be on the floor.  Like regular bingo, you call our spots, and as students cover them, they do the exercise on that spot.  You can use a pre-made version or create your own to meet the needs of what you are teaching.
Invisible Anything
In some cases, you may not have space or be allowed to use the equipment for safety reasons. Thus, a child's imagination is a great tool to tap into for these situations.  You can have students do things like invisible jump rope for a quick warm-up or as part of a bigger circuit.  You can mimic practicing skills without equipment such as shooting or passing a basketball. Thus, you do not always need equipment to stay distanced and keep teaching your curriculum.
Freeze Dance Party
This game comes from Asphalt Green's website of COVID-19 safe games for students. It is worth a visit as it has a lot of great activities you can do in different locations. This activity is what it sounds like: a freeze dance party. You play music, and when the music stops, students freeze. You can mark off personal space using floor tape or cones, so students have properly distanced boundaries.  Fun, simple, and easy to do, you can use this to teach about heart rates, effects of exercise, and dance. Also, any dance unit is excellent for social distancing, especially line dance, because you can easily keep students spaced out and moving and learning at the same time.
Scavenger Hunt
Who does not love finding things? You can have students play individually, in socially distanced pairs, or in socially distanced small groups. You can have them in their own sectioned off area for each person, pair, or team. And you can do themes such as finding superhero items, school items, and the like. Don't be afraid to keep it simple as that will offer the most space. And this is ideal outdoors but can be done indoors with proper spacing and organization. Help them out with directional markers that also allow for distancing. Create a map for them to find secret items, like the suggestions below. Or you can even use this Mega Novelty Pack of items and then you are all set!
Themed items they can find:
Cross the River
This game is a fun one that students can do one at a time in a large space. You have students on one side of the playing area six feet apart.  In the middle, you place poly spots randomly on the ground. Students must go one at a time trying to leap or jump from spot to spot to get across the river. If they fall in, they have to go back to the start.  You keep going until everyone has gotten across. The students eat this game up.  They love cheering for their classmates, and once one figures out a path, the others quickly follow suit. Plus, this teaches locomotor skills and jumping and landing patterns.
Other Learning Activity Ideas
Six feet apart partner passing the basketball, soccer, hockey, or volleyball passing skills (view all sports ball equipment here)
Yoga on mats adequately spaced apart
Simple walking back and forth in pre-determined safely distanced lanes
Hopscotch with chalk
Egg spoon race (Each student has their own plastic or wooden egg and spoon)
Simon says, or The PE teacher says
These are just some broad-spectrum ideas you can use.  What works for you will depend on your space and restrictions. However, with a little creativity and extra hard work, you can make PE safe, fun, and the good learning experience for all involved.
Check out the new PE Central professional development course on Teaching Physical Education and Health remotely.
Do you have a great game for socially distanced physical education?  Share with us below!
---
About the Author: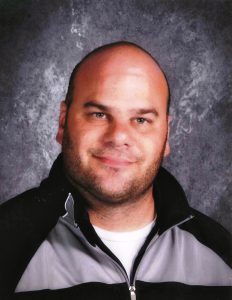 Charles Silberman is a physical education and health teacher with 18 years of teaching experience. He has become a leader and advocate for incoming physical educators by running workshops on teaching in limited space at staff in-services and conferences, assisting with new teacher orientations, and other initiatives. He has experience writing curriculum from scratch and writing published information specific to physical education in state and nationally recognized publications and websites. Charles has also created a niche as a physical education specialist who fuses technology and primary instructional subjects into physical education lessons.
View all of his Professional Development courses at the S&S Worldwide online school.