While looking through the thousands of lesson ideas published on PE Central, we found many basketball related activities published over the past 20 years. With that in mind, we thought it might be helpful to put some of our favorite basketball lesson ideas on one page so teachers could find them easily. If you are interested in teaching dribbling with finger pads to young children, teaching the proper techniques for chest or bounce passes, or if you want ideas for teaching youngsters how to shoot a basketball, you have come to the right place! We even found an amazing, unedited, 22-minute basketball lesson that we list first!
Basketball Lesson Ideas for PE
Teaching Dribbling
Grades K-2
Grades 3-5
Grades 6-8
Grades 9-12
Assessment
Best Practice
Bulletin Board
Dance
We hope you enjoy putting these lesson ideas into practice over the coming months, right into March Madness!
To see more basketball-themed ideas at PE Central, visit www.pecentral.org/marchmadness.html
Refer to this Easy Guide when purchasing basketballs for your school or organization: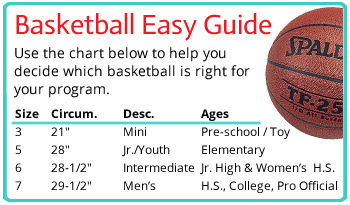 Fun Fact: Basketball was invented over 125 years ago on December 21st by James Naismith
Author: Mark Manross, Executive Director, PE Central