Science, Technology, Engineering, and Math or STEM is the new buzzword in education as all levels of educators press to refocus curriculum suited for tomorrow's emerging technological workforce. A 3D printer enables teachers to span the entire STEM spectrum with one device. Here are 10 designs that demonstrate one or more letters in S.T.E.M. The links to each design include the .STL file download that is needed to create them with your 3D Printer!
Math
1) Geometry Connectors – Add some excitement to your Geometry lesson! Use these geometric connectors with quarter-inch dowel rods to make shapes like a icosahedron, tetrahedron, and cube come to life.
Source: Thingiverse – fozzy13, published Nov 28, 2015
2) Fraction learning kit  – What child has not struggled with fractions in some form or another? And what teacher has not used the proverbial slices of pie example to clear those glassy eyes?  Well, these slices of pie can be used over and over again without getting pie filling all over the classroom! Let's Learn Fractions is a short video that fully discusses fractional concepts. It is animated and done well!
Source: Thingiverse – Fraction learning kit by tuempl, published May 6, 2013
3) Customizable Convex Polyhedra – This webpage offers 110 different polyhedra solids and cutouts. The customizer alone makes this page worth a venture just to see the names and shapes together…it's incredible! Make sure to visit the customizer and play around viewing the different shapes. This Polyhedra video is a discussion explaining what they are, how they are named, and how they are classified.
Source: Thingiverse – pdragy, published Mar 4, 2014
4) Sterographic Projection – defined by Dictionary.com stereographic projection is a "one-to-one correspondence between the points on a sphere and the extended complex plane where the north pole on the sphere corresponds to the point at infinity of the plane." In other words, it's a map from the sphere to the plane.  Also, included on the Thingiverse page linked below is a great video discussion of stereo projection!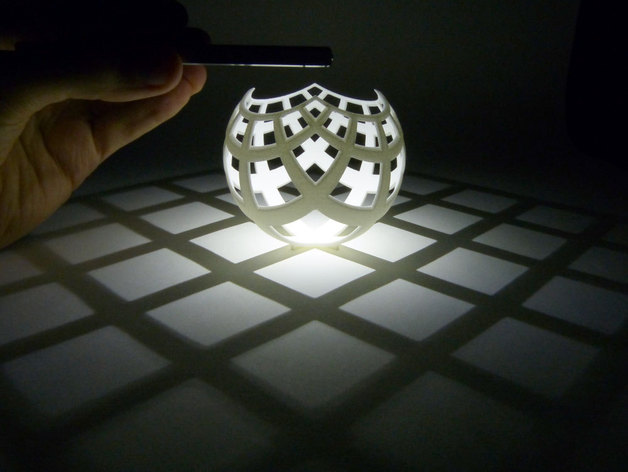 Source: Thingiverse – henryseg, published Dec 13, 2013
Math & Engineering
Math Gears – This design is easily used with overhead projectors and demonstrates ratios and mechanical engineering.  Home Science Tools has this short discussion explaining types of machines and various aspects of gears and their uses.  You can also refer to this video that illustrates and explains gear speed, direction, circumference, diameter, and radius concepts.
Source: Thingiverse – SSW, published Nov 18, 2013
Engineering
1) Modified Howe Bridge – Engineering Project (STEM) – WongZCMS designed this bridge as one of three designs to discuss and demonstrate bridge concepts with his class.  As a set, they demonstrate the characteristics of various bridge designs.  Additionally, this link lists 8 videos discussing building bridges concepts.  Additionally, the How Stuff Works website published this How Bridges Work article discussing everything from the basics of bridge design to living bridges.
Source: Thingiverse – WongZCMS, published Aug 11, 2013
2) Archimedes Trammel – is a mechanical device which produces the shape of an ellipse by using 2 shuttles which move in the x and y direction.  In other words, it is a device used to draw a near perfect ellipse using mechanical means. Here is a fun video from a young boy who built a trammel with his father from Legos, and he gives a simple explanation to its use. This video demonstrates that even today Archimedes Trammel is useful in a real world situation!
Source: Thingiverse – EXO2, published Jun 8, 2015
Science
Rocket Car Race Chassis and Wheels – Thrust, mass, and acceleration can be explained by stepping through the basic rocket principles.  This is a non explosive principles demonstration and is environmentally friendly. Students can learn about science and re-purpose those old soda bottles! This video called Build Your Own Rocket Car demonstrates how to make a homemade bottle rocket car and how to charge and release it…watch it go!  Another great resource is NASA which provides this complete lesson guide for Pre-K-2 which focuses on activities about the International Space Station and the role of rockets.
Source: Thingiverse – ralphmcneill, published Nov 5, 2014
Science, Technology, Engineering, Math
Windmills and wind turbines seem to encompass the whole gambit of STEM!  Blade design and lift characteristics can be examined as well as electrical technologies and circuit design. When electronic experimentation is exhausted the windmill can then be transformed into a mechanical water pump for more mechanical engineering examples and experimentation! How Do Wind Turbines Work is a great video explaining how full scale wind turbines operate today and includes discussion about blade aerodynamics. This video animation demonstrates how windmills can be used to pump water or grind wheat.
Source: Thingiverse – Wind Turbine by AtomKemp, published Jun 28, 2013
Source: Thingiverse, Mini – Wind Turbine by larsonmattr, published Nov 27, 2010
Science, Technology, Engineering
Ultrasonic 3D Scanner – Although this project is ambitious, it has room to grow.  This nifty little device uses sound to create a low resolution 3D picture of its surroundings! The software is in its infancy and refinement could be a project unto itself.
Source: Thingiverse – Pyromaniac, published Jun 22, 2015
STEM is important because it is vital to our children's future and our country's. 3D printers are poised to be the all in one package for S.T.E.M. educators. This article only scrapes the surface of possible classroom learning opportunities. The real power is problem solving scenarios which can be developed, designed, and then brought to life; an idea brought forth from conception into an actual object. Imagine tasking your class with a real problem solving opportunity, such as a local handicap community member struggling with a certain daily task like grasping a credit card with their hands. Having students conceive and produce a device which will aid this person in their daily life can be a powerful motivator. Your class collaborates, conceives, designs, and prints their object, and then they get the wonderful feeling of seeing that person benefit from their work. They get to see an idea actually materialize from a mental picture to an actual hands on object. The sky is the limit…
Author: David Weas, Tech Support Director at RNK Distributing 
Check out our Imaginator 3D Printer at S&S Worldwide!