Health & PE Teacher Stephanie Lawson shares how Keheley Elementary School in Marietta, GA has become an active school.
Our Wellness Team at has been established for at least 9 years and we have slowly built a great team composed of myself, the school nurse, cafeteria manager, classroom teachers, paraprofessionals, a parent, and a student. Our Wellness team really got on board with wellness with the Alliance for a Healthier Generation first, and then later with Let's Move! Active Schools. The Alliance for a Healthier Generation encouraged our school to complete the School Heatlh Inventory and apply for the Let's Move! Active Schools National Award. Let's Move! Active Schools inspired us to dance and get students moving, and provided us with new ideas and resources.
Morning Walk Program
We have a morning walking program before school three days a week called Walk Fit.  They walk from 7:25-7:45 on Mondays, Wednesdays, and Fridays. The students LOVE it, and our classroom teachers say that they encourage students to go to Walk Fit because when they return to the class they are happy and more alert to learn that morning.
Healthy Tip of the Week
I go on the morning news to give a healthy tip of the week and pull in our PE Students of month to assist with the brain energizer and healthy tip.  I pick a boy and girl from each grade level to be a PE student of the month. Students want the recognition and work harder for me in the gym to get that award. I started this award this year and have seen an improvement in the behavior of my students. I teach the kids that the reward for being healthy should be intrinsic, but this extrinsic award motivates and reaches students in a different way. I also perform a dance or physical activity movement for students to follow along with.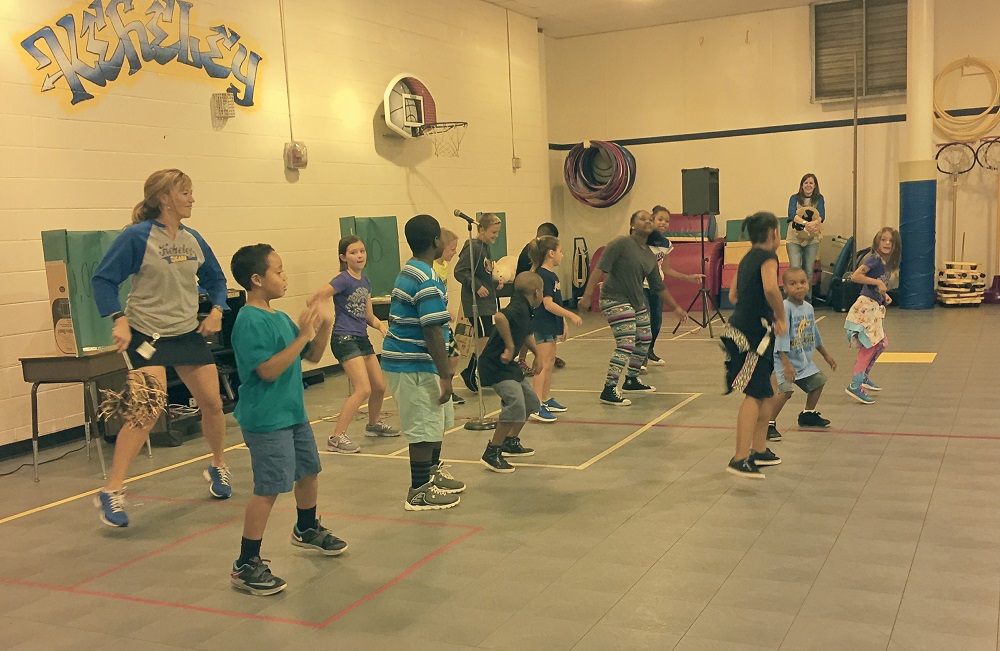 Brain Breaks
During the school day, our students have a daily recess schedule, and classroom teachers are encouraged to do brain breaks at least 10 minutes during the school day.  We are a Georgia Power Up for 30 school and want our students moving as much as possible. I also hope to give classroom teachers ideas of exercises/brain breaks they can do with students in their classrooms. Our wellness committee has composed a list of resources for the classroom teachers to use to incorporate activity into the school day.
Here is a list of websites we use for Brain Breaks:
Afterschool Clubs
We have a Running club, Art club, Chess club, Music club, and Karate club after school for students to join. We have at least two school community events each year to promote health and wellness. We have a Fun Run every fall and the Straw Walk event at the end of March every year. March is walking wellness month and we track the number of miles our students, staff, and families walk during the month. Students are given pedometers each year to track the number of steps they walk each day. The Straw Walk is a fun event where the community is asked to walk with us during the school day. We also have a school dance during the school day and at night to promote fitness. In February, we will have a Multicultural Night with dances from around the world. And we can't forget the grand Field Day event in May!
Wellness Committe
Our wellness committee does a wellness survey for staff once a year to see how we can improve their health and wellness. We offer a Boot Camp class twice a week at a low cost on days that work the best for them. This committee makes a wellness plan every year and is comprised of 9-11 staff members. We work with the Alliance for a Healthier Generation and use their resources to improve our school in many ways. The Alliance has encouraged us to write grants for our school the last two years and our school has won three Healthy School awards! The National Bronze Award from the Alliance for a Healthier Generation, Georgia GOLD level SHAPE Honor Roll Award, and the US Challenge Award for nutrition. We look for healthy school programs like Strong4Life to come in and encourage our students to be their best.
Academically, our schools test scores have shown significant improvement over the last 5 years and I believe the healthy choices we make every day affect those scores. We also have written grants for the school gardens and work with Captain Planet Foundation to provide lesson plans for all grade levels.
I feel like our school works hard in many ways to encourage and promote health and wellness for all in our community. We are currently working with the Atlanta Falcons Fitnessgram program which is a 2 year program to promote fitness.  We will work together to promote physical activity and a Healthy lifestyle.
About Let's Move! Active Schools
Let's Move! Active Schools is a sub-initiative of Michelle Obama's Let's Move! campaign. They announced the 2015 National Award recipients which included 525 U.S. schools, recognized for their efforts of increasing physical activity for their students and creating an Active School environment. They are truly School Champions, making a difference in the world of physical education. S&S Worldwide joined Let's Move! Active Schools to support their goal that Active Kids Do Better.
Want your school to become an Active School? Join the movement.
For more Active Schools success stories, visit www.ssww.com/blog/tag/lets-move-active-schools
About the Author:
Stephanie Lawson is a Health and Physical Education teacher at Keheley Elementary School in Marietta, Georgia.  She has led her wellness team in winning several healthy school awards; Let's Move in Schools, The Alliance for a Healthier Generation BRONZE award, and Nathan Deal's GA SHAPE Honor Roll Platinum award.  She has also written over $16,000 in healthy school grants to promote wellness  for staff, students, and people in the community. She wants to inspire people to be their best! Carpe Diem!