Are you planning some new party themes for the warmer seasons? A laid back and tropical Hawaiian luau is the perfect option for any age! Check out some of our favorite products to help you create the ultimate event.
These 10 ounce cups are the ultimate addition to any tropical party. Each set of 12 comes with their own straw and Hawaiian flower. Their texture gives them an authentic look! Use them for flower centerpieces, toothpick and umbrella holders, fill them with candy or other novelty items and they make great giveways or door prizes.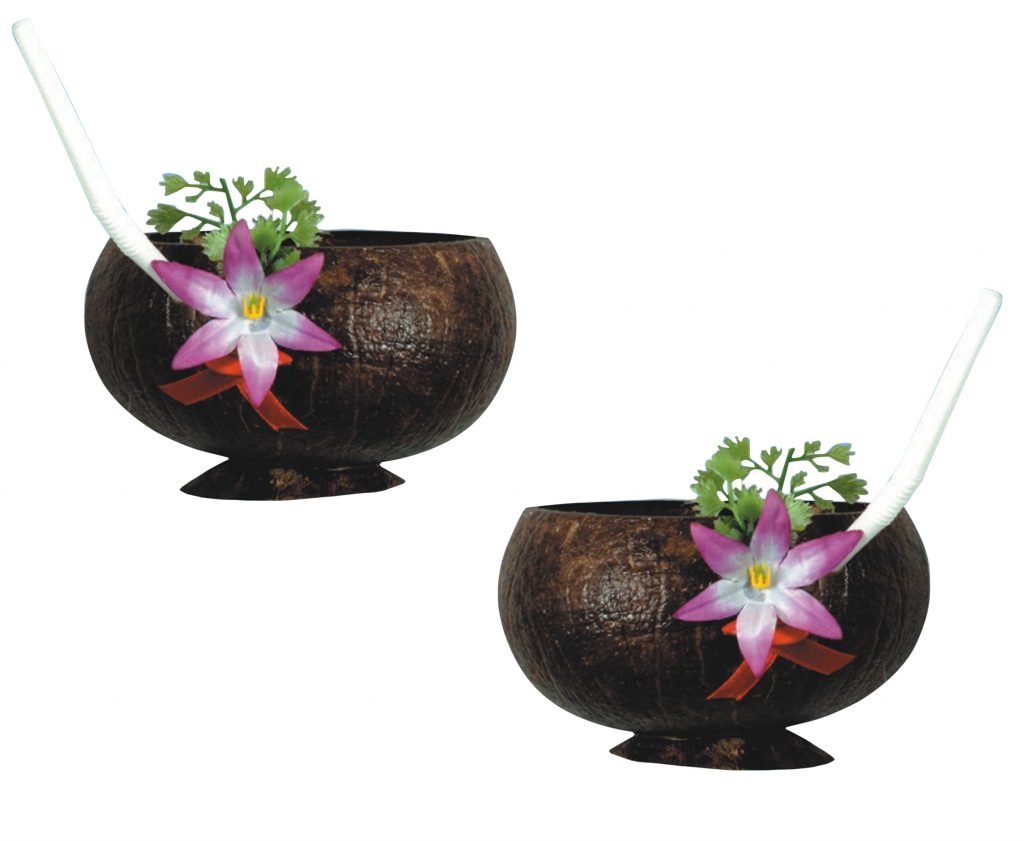 Tropical Luau Accessories
Be sure to fill your luau table with some tropical accessories, like Flip Flop Keychains, and even some Jumbo Aquatic Squirters for relief from the hot sun! You can even put these items into the Coconut Cups on display.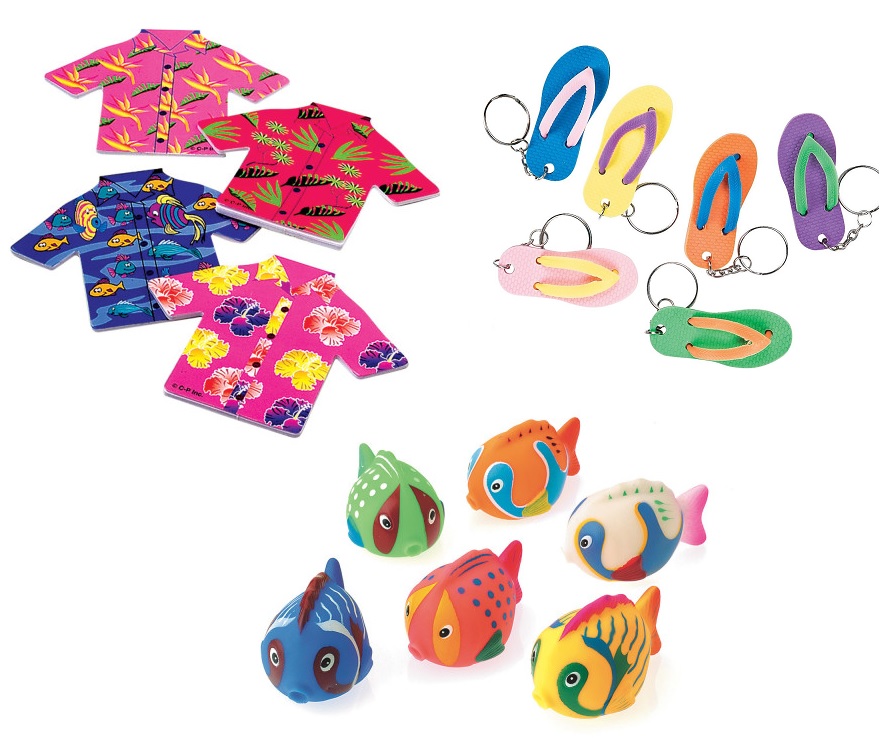 What is a luau party without a fun game? Host a competition to see who can score the most points with this Flamingo Toss Game! The winner gets named the Luau champion and wins a fun prize. Comes with 3 different size rings with colors and numbers to track points. Great for the lawn, tabletop, in the pool, or even on your head!
This 9 foot long genuine raffia table skirt is a great accent to any tropical party. Add a flower garland for the finishing touch! Or you can use our Flowered Raffia Table Skirts, with your choice of green or tan.
Set the ultimate luau mood with this 11.5 inch tabletop bamboo torch. It comes with a candle to insert into the top. Re-use it each year – simply replace the candle! Great for indoor or outdoor use.
Palm trees are the perfect addition to a luau party! Be sure to keep everyone's drinks cold with this inflatable cooler. It holds approximately twenty-four 12 ounce cans.
Transform your room into a tropical paradise instantly. This insta-theme decorating kit includes a 4' tall Ocean & Beach backdrop, Beach Backdrop, Flower & Bamboo Walkway border, and props including Tiki Bar & Island Props, Palm Tree Props and Tropical Bird Props. All props have varying sizes.
Host a hula competition at your luau party! Give everyone a green grass hula skirts and start dancing! They also come with a floral waistband. Waist is 36″ and length is 32″. You can also split the group into 2 teams, and have the other team wear our natural color skirts.
Shell Sand Art Bottles
Create beautiful sand art to decorate the tables at your luau, or for a fun craft activity! Fill the sand bottles with fine or course sand. For extra flair, add glitter to the sand mix. You can also use our seashell sand art necklace kit, which comes in a pack of 12 with 4 bags of sand included.
Set aside a section of the room for photo props with hawaiian themed backgrounds! Your guests can choose between this dancing hula girl or a totally cool surfer dude. The props are stand-up cardboard and measure 37″W x 25″H.
Welcome friends with colorful leis that are fun and easy to make. Bright paper flower shapes string together on plastic lacing. Includes pre-cut heavy sulphite construction paper flowers, plastic lacing, large plastic beads and instructions.