Now that Easter is over, what are you going to do with all of those plastic Easter eggs? All of those eggs that you seem to accumulate more of each year should be put to good use! Here are 5 quick ideas from notjustbingo.com on how to use up some of those colorful eggs:
Bird feeders. Instead of spreading peanut butter around pine cones to make bird feeders, simply use your plastic Easter eggs. Before the project, hot-glue the eggs closed and attach a ribbon to the top for hanging. After covering the eggs completely with peanut butter and rolling them in birdseed, hang the finished feeders on your backyard trees.
Instruments. Fill your empty plastic eggs with either dried beans or rice to create mini maracas. Be sure to hot-glue the eggs together to avoid any messy band rehearsals!
Easter Decorations. Use the eggs to make Easter decorations for next year. For example, hot-glue ribbon to them to create ornaments that can be used to create an Easter tree (by hanging the eggs on small tree branches), or glue Easter grass and plastic eggs to a cardboard shaped wreath to create Easter wreaths for your facility's doors.
Games. Create fun games for your participants to play in which the plastic eggs come in handy, like tossing games or even an egg bocce ball game, in which participants try to roll their colorful eggs as close to a white egg as possible without touching it.
Inter-generational Crafts. Finally, try to host inter-generational activities in which kids can assist your residents with making fun toys and crafts, like these Easter egg glow bugs, by gluing pipe cleaners, googly eyes, and felt to the Easter eggs. Add even more interest to the toy bugs by placing battery-operated tea lights inside to make them glow.
About Not Just Bingo: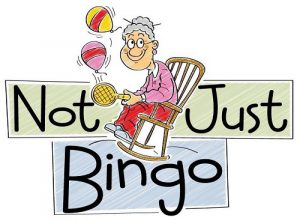 Not Just Bingo is an online resource of fun, senior activity ideas for activity professionals of nursing homes and assisted living facilities. They have been providing fun activity ideas online since 2009, and continue to assist activity professionals across the country by creating meaningful and engaging activity ideas for their residents that go "beyond bingo." Not Just Bingo feels privileged to help activity directors better the living experiences of their residents while demonstrating that a senior's quality of life can actually improve when they move to a nursing facility!
Want even more ideas each month? Visit www.notjustbingo.com for how-to activity ideas, monthly newsletters, and daily holiday ideas. You can also sign up for the Notjustbingo Membership to receive specialized activity ideas to keep your residents and staff engaged, active, and having fun!