S&S Worldwide has the pleasure of attending the American Occupational Therapist Association National Conference (AOTA) once a year. This time around, the conference brought us to the Windy City of Chicago! True to its name, the weather was crazy. But the wind, rain, and snow did not slim down the attendance! Some 10,000 attendees worked their way downtown to take advantage of all the wonderful speakers, demonstrations and of course, exhibitors that this year's conference had to offer. My colleague Brian Armstrong and I were greeted by these smiling faces for three days, and all were eager to see and learn what great new things were available to them in the field of Occupational Therapy.
One thing that struck us was just how many students attend the conference. It seemed like 4 out of 5 attendees were students, which was very refreshing. It is so great to know that even though they are still doing coursework, they will use their free time to continue educating themselves for the field. That's dedication! There was no hesitation, either. All got their hands on the Fidgets that we sell which are used for dexterity work, and tested out our array of tactile and visual items for sensory stimulation. The questions the students would ask were on point and very inquisitive, which further impressed us with their enthusiasm to learn. After all, S&S does like to make it easy to play AND learn!
We also brought one particular item that everyone was impressed with, and we even had a line form out of our booth! It was definitely the highlight of our show: the Makey Makey. Typically used as alternative to your computer keyboard and as an introduction to coding, we demonstrated just how applicable technology can be in an area typically dominated by more hands-on (literally) products. Students walked away wanting to personally buy one, and established professionals' minds went wild with ideas of how they can use it in Occupational Therapy with their patients! It was a huge hit!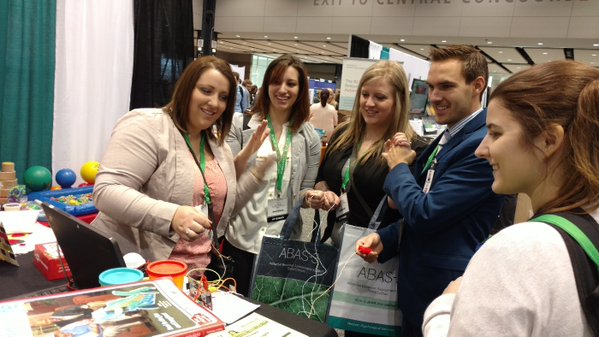 This year was the first time that Brian and I were personally able to attend, but we are even more excited for next year after being acquainted with so many lively and dedicated individuals.  All-in-all, this year's AOTA conference was marvelous! Hopefully we will see you again next year in Philadelphia!
Submitted by: Kevin Lovely, Key Account Representative