Our new Across the USA theme for 2017 will feature one new state per month! February is the state of Louisiana. The southern state of Louisiana is known for many things – food, fun, and music. So have fun with your residents this February as you help them discover the beauty and richness of the Louisiana culture. Here are some Louisiana-themed activities from notjustbingo.com to get you started.
French Influences
Louisiana, named after French King Louis XIV, has maintained a culture rich in French traditions. Try to schedule a few activities that tap into this French influence.
French Coffee Break – Brew a pot of French roast coffee for residents to enjoy with the morning paper.
Playing Pétanque – Teach residents how to play the French lawn game of Pétanque, which is similar to the well-known Italian bocce ball or American lawn bowling games. After your residents get the hang of the game, plan a few tournament games throughout February. In fact, Louisiana hosts a tournament each year that caters to many of the Pétanque sports clubs throughout the state.
Music
Dial into the heart of Louisiana's spirit by playing the music that was made popular by the state, like New Orleans jazz music or Cajun country music.
Band Performance – Recruit residents to start a band where they play musical

instruments while listening to jazz CDs. You can also hand out rainmakers or bells for residents with sensory needs. Try organizing a "Band Rehearsal" each week throughout February to get residents used to socializing and having fun with music.
Music Appreciation – Find information about famous Louisiana musicians, like bandleader Louis Armstrong or trumpeter Wynton Marsalis, and play their music for residents to enjoy as you share fun facts about the entertainers.
Jazz Era Memories – Reminisce with residents about the Jazz era by playing music to allow residents to tap their toes and share their Jazz era experiences with others.
Line Dance Class – Get your residents up and moving as you play New Orleans-style dance music while teaching residents a few line dances.
Mardi Gras
You can't talk about Louisiana without mentioning the annual celebration of Mardi Gras, which is on Tuesday, February 28.
Bead Making – Get residents ready
for your Mardi Gras festivities by making their own accessories using jewelry cord and colorful beads.
Mardi Gras Treasure Hunt – Invite residents to search for Mardi Gras favors like themed coins or purple and green glow bracelets that can be hidden throughout your facility. Award a prize to the person who finds the most favors during the treasure hunt.
Masquerade Dinner – Host a fun masquerade dinner for residents. Pass out masks for them to wear. If your residents are pretty crafty, consider scheduling a Mask-Making Party earlier in the day and have residents adorn plain masks with feathers, sequins or glitter.
Mardi Gras Dance – Celebrate the last day of February (Mardi Gras) with a fun dance for residents. Ahead of time, decorate your Activity Room with Mardi Gras decorations and lots of purple, gold,and green balloons. During the dance, pass out party horns and encourage residents to dance to Louisiana-style music.
Bourbon Street Happy Hour – Set up a non-alcoholic bar for residents to stop in for a drink along Bourbon Street (in the hallway). Pass out Mardi Gras beads and silly string for your serious party-goers.
Mardi Gras Fashion Show – Invite residents to get dressed up in purple, gold, and green for a fashion show in your Activity Room. At the end of the show, award trophies to the best dressed residents. Be sure to have your activity staff get dressed up too. Pass out Mardi Gras derby hats or jester hats just for them.
Nature
Louisiana, known for its woodlands to the north and its bayous and marshlands to the south, provide habitats for a vast array of species.
Nature Sounds – Host an afternoon
for your residents to listen to and enjoy the different sounds of nature.
Nature Artwork – Use nature stencils for residents to create unique artwork on canvas or on paper. A second option is to use ready-to-use posters or canvases for residents to paint or color.
Nature Crafts – Take stock of the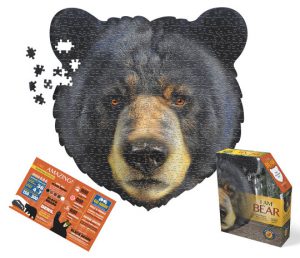 important animals that are found in Louisiana by planning fun animal crafts. For instance, since the Louisiana State Mammal is the American Black Bear, set up a black bear jigsaw puzzle on a table in your
Activity Room for residents to independently stop by and work on the puzzle at their leisure. In addition, as an intergenerational activity, invite the grandkids to come by to color their own stuffed bears with Grandma and Grandpa. Another animal craft option, since the green tree frog is Louisiana's State Amphibian, is to gather residents to make fun frog note holder to hold some of their letters from relatives or nice thoughful notes from staff.
Food
Last but not least, you can't talk about Louisiana without mentioning the food! Plus, residents love food related activities!
Gumbo Lunch – Coordinate with Dining Services to serve a fun gumbo lunch for your residents to enjoy. If the Kitchen Staff is willing, set up a cooking demonstration in the Dining Room before lunch where the cooks can show residents how to make a proper
gumbo.
Beignet Pastry Class – Dust off the aprons and teach residents how to make French beignets. Use an electric fryer for the class, or to keep things simple, make a beignet batter that can easily be placed in an electric donut maker. Residents can also use this cupcake maker to make delicious cupcakes topped with strawberries, Louisianas state fruit.
Hot Sauce Tasting – Invite only your bravest residents to participate in a unique hot sauce tasting. Grab a few bottles of Louisiana-style hot sauces, like Louisiana Hot Sauce and Tabasco Red Pepper Sauce, and have residents sample the sauces with tortilla chips.
About notjustbingo.com

notjustbingo.com is an online resource of fun, senior activity ideas for activity professionals of nursing homes and assisted living facilities. They have been providing fun activity ideas online since 2009, and we continue to assist activity professionals across the country by creating meaningful and engaging activity ideas for their residents that go "beyond bingo." Don't get them wrong – bingo is fun, but we want to spread the word that there is more to life than just bingo. Overall, notjustbingo.com feels privilege to help activity directors better the living experiences of their residents while demonstrating that a senior's quality of life can actually improve when they move to a nursing facility.