The holidays are upon us and what better way to celebrate than to bring some holiday cheer to those around us! It's so important to be a part of the community and brighten the
season for those in need. Our friends from notjustbingo.com have shared some ways to give back to the community during the holidays:
Set up a Giving Tree. Simply set up a holiday tree in your facility that is adorned with paper ornaments that contain the Christmas toy wishes of kids from the local Boys' and Girls' Club. Encourage family members and staff members to pick one of the ornaments and purchase the gift for the child.
Adopt a Family. Contact a local church or synagogue to find a local family in need that your facility can adopt during the holidays. Involve your whole organization with the effort. For example, encourage your Crafts Club to make no-sew blankets, invite your Baking Club to make Christmas candy bark, and recruit family and staff members to donate toys to the family.
Host a Bake Sale. Recruit your facility's Baking Club to bake a host of holiday goodies to sell to raise money for a local charity for the holidays.
Begin a Clothing Drive. Set up several large boxes in your facility as you encourage people to purge their closets and get rid of any unnecessary items.
Organize a Food Drive. Invite family members to bring a non-perishable canned good in exchange for attendance to your annual holiday party.
Schedule a Silent Auction.
Encourage residents or students to create crafts and artwork that can be sold during a silent auction at one of your holiday events. Donate the proceeds to a local charity.
Provide Treats for First Responders. Provide your Baking Club with the necessary supplies to whip up batches of freshly baked cookies to deliver to your local police and fire stations for the holidays.
Make Christmas and Hanukkah Cards for Troops. Invite residents or students to make holiday cards to send overseas to U.S. troops.
Plan a Bachelor Auction. Recruit your facility's men to "donate themselves" for a good cause. Ask the men to participate in a fun bachelor's auction, and they can dress in holiday themes! Staff and family members can bid to win a dinner with the men in your facility's Dining Room. Donate the proceeds to a worthy cause.
How are you helping your community this holiday season? We would love to hear your ideas below in comments.
Find more ideas from Notjustbingo on the S&S blog here.
---
About Not Just Bingo: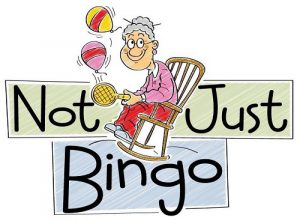 Not Just Bingo is an online resource of fun, senior activity ideas for activity professionals of nursing homes and assisted living facilities. They have been providing fun activity ideas online since 2009, and continue to assist activity professionals across the country by creating meaningful and engaging activity ideas for their residents that go "beyond bingo." Not Just Bingo feels privileged to help activity directors better the living experiences of their residents while demonstrating that a senior's quality of life can actually improve when they move to a nursing facility!
Want even more ideas each month? Sign up for the Notjustbingo Membership to receive specialized activity ideas to keep your residents and staff engaged, active, and having fun!