Are you trying to get more of your nursing facility residents' grandkids to visit grandma and grandpa during the Easter holiday? Here are 9 fun Easter activities from notjustbingo that are sure to help bring them closer for the holiday.
Use Colorful Decorations. Decorate your facility with lots of fun, Easter decorations to make your facility less scary for little kids. For instance, use pretty pastel lights to decorate your main living areas. In addition, don't forget to supply yourself and your assistants with bunny clings to put on their windows.
Host an Easter Egg Hunt. Fill plastic eggs with candy treats like jelly beans before encouraging the little ones to search your facility to find the eggs. For a non-candy option, hide Play-Doh® Spring Eggs instead and kids can play with the dough.
Make Easter Baskets. In the invitation, advertise that the grandkids will be able to make their own Easter baskets. What kid wouldn't love that? Provide the grandkids with chocolate bunnies, jelly beans, and tissue paper to fill their baskets.
Host a Chocolate Bunny-Making Class. Teach the kids how to make their own
chocolate Easter bunnies using just melted chocolate and bunny molds. After filling the molds with chocolate, freeze them for several minutes for the chocolate to harden. Then place candy inside one side of the mold and use melted chocolate to act as the glue to seal the other side of the mold to create the bunnies.
Play Fun Easter-Inspired Games. Entertain the grandkids with fun Easter games like a bunny-popper ball toss.
Host Fun Competitions. Host several competitions for the grandkids, like Name That Jelly Bean, in which the kids must identify the flavor of each jelly bean, or an egg-and-spoon race.
Schedule an Easter Bunny Visit. Recruit one of your facility's administrators to dress up as the Easter bunny to hand out Easter candy to the kids.
Dye Easter Eggs. No Easter party would be complete without coloring Easter eggs. This is our favorite of the Easter activities. Encourage your residents to enjoy this inter-generational activity as they assist their grandkids with dying Easter eggs for the kids to take home.
Give Gifts. Finally, give plush rabbits to the grandkids to color and take home with them in exchange for spending quality time with Grandma and Grandpa. If gifts are not an option, pass out balloons. After all, kids love balloons!
---
About Not Just Bingo: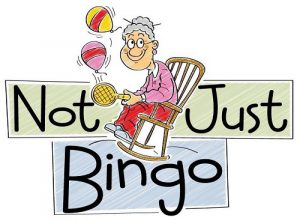 Not Just Bingo is an online resource of fun, senior activity ideas for activity professionals of nursing homes and assisted living facilities. They have been providing fun activity ideas online since 2009, and continue to assist activity professionals across the country by creating meaningful and engaging activity ideas for their residents that go "beyond bingo." Not Just Bingo feels privileged to help activity directors better the living experiences of their residents while demonstrating that a senior's quality of life can actually improve when they move to a nursing facility!
Want even more ideas each month? Visit www.notjustbingo.com for how-to activity ideas, monthly newsletters, and daily holiday ideas. You can also sign up for the Notjustbingo Membership to receive specialized activity ideas to keep your residents and staff engaged, active, and having fun!