Are you in need of a few art project ideas that your residents can independently complete on their own in their rooms? If so, then keep reading to learn of five fun art projects that your residents will enjoy doing on their own:
Aqua Paintings
Show residents how to paint like Picasso by providing them with aqua painting sheets that turn into beautiful artwork by just brushing water over the design. For the activity, simply fill no-spill paint cups with water that residents can dip their paintbrushes into to "paint" their masterpieces.
Scratch Art
Demonstrate the unique art of scratch design, in which residents create unique artwork by scratching the chipboard or paper to reveal a beautiful artistic design.
Velvet Art
For a fun sensory experience, supply residents with velvet art posters that they can feel as they color in the lines with markers. Encourage residents to display the finished textured artwork in their rooms.
Foil Leaf Art
Invite residents to try their hand at creating foil art by simply peeling off the top layer of the art to reveal adhesive paper underneath that residents can stick colorful foil onto to create vibrant art.
Coloring Art 
Encourage residents to create their own stained glass for their windows by coloring stained glass coloring pages using crayons or markers. Once the pictures have been colored, help residents hang the finished artwork in their windows to mimic beautiful stained glass.
Find more ideas from Notjustbingo on the S&S blog here.
---
About Not Just Bingo: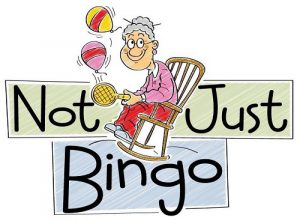 Not Just Bingo is an online resource of fun, senior activity ideas for activity professionals of nursing homes and assisted living facilities. They have been providing fun activity ideas online since 2009, and continue to assist activity professionals across the country by creating meaningful and engaging activity ideas for their residents that go "beyond bingo." Not Just Bingo feels privileged to help activity directors better the living experiences of their residents while demonstrating that a senior's quality of life can actually improve when they move to a nursing facility!
Want even more ideas each month? Visit www.notjustbingo.com for how-to activity ideas, monthly newsletters, and daily holiday ideas. You can also sign up for the Notjustbingo Membership to receive specialized activity ideas to keep your residents and staff engaged, active, and having fun!