Need a few intergenerational Father's Day ideas? Plan an afternoon of special activities for the grandkids and their Grandpas that feature crafts, games, and lots of lasting memories. Here are just a few from notjustbingo to consider:
Building
Set out several kits for the senior men to assemble with their grandkids, like padde wheel boats, birdhouses, or sailboats. If time permits, encourage the participants to try out their creations. For instance, set up a kiddie pool with water in the backyard for the kids to try out their boats.
Teaching
Arrange to have the grandfathers provide one-on-one teachable moments to their grandkids. For instance, set up several game stations throughout your facility for them to teach their grandkids how to play different games like mancala or a racing game. Then, when the grandchildren return in the future, they can play again in hopes of one day beating Grandpa at the game!
Making Mementos
Provide crafts that the senior men and their grandkids can personalize, like decorating plates with handprints or filling picture frames with recent photos. They can even color their own visors based on their favorite characters, and wear them for a photo for future memories!
Competing
Encourage the men and their grandkids to interact with the other participants of the Grandfather-Grandchild Father's Day festivities by scheduling fun tournaments featuring traditional games in your Activity Room. For example, set up several checker boards for a Checkers Tournament or set up a dart board for a Dart-Throwing Contest.
Crafting
Allow the Grandpas to show-off their crafting skills as they assist the grandkids with making simple crafts like tile coasters. Encourage the granddads to sign and date the crafts before sending their grandkids home with their treasured gifts.
Find more ideas from Notjustbingo on the S&S blog here.
---
About Not Just Bingo: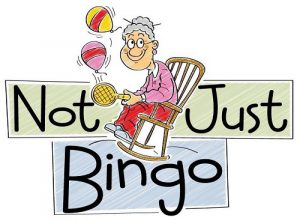 Not Just Bingo is an online resource of fun, senior activity ideas for activity professionals of nursing homes and assisted living facilities. They have been providing fun activity ideas online since 2009, and continue to assist activity professionals across the country by creating meaningful and engaging activity ideas for their residents that go "beyond bingo." Not Just Bingo feels privileged to help activity directors better the living experiences of their residents while demonstrating that a senior's quality of life can actually improve when they move to a nursing facility!
Want even more ideas each month? Visit www.notjustbingo.com for how-to activity ideas, monthly newsletters, and daily holiday ideas. You can also sign up for the Notjustbingo Membership to receive specialized activity ideas to keep your residents and staff engaged, active, and having fun!