Wondering how to get the family involved in activities in your facility? Host a fun open game night every Saturday evening for family members to drop by to play with their loved ones. Simply set up lots of game tables in your Activity Room, and encourage participants to sit, play, and have fun. Here are a few ideas to get you started:
Bingo
While your activity calendar is probably already full of bingo games, consider adding in a few variations of the traditional bingo game. View the examples below on some of our favorite new games featuring bingo with a specific theme!
Jeopardy & Wheel of Fortune
Pretend to be a television game show host as you host fun Jeopardy and Wheel of Fortune games. First, invite participants to show-off their knowledge as you become Alex Trebek and ask them trivia questions. For Jeopardy, you can use the actual Jeopardy board game or the card game. For a less mind-crunching game and to get residents more active, play a fun jumbo inflatable Wheel of Fortune themed toss game! 
Pokeno
Teach participants how to play the fun game of Pokeno, which also uses game cards and bingo chips. Instead of calling out bingo balls, however, call out the individual card from a deck of playing cards for participants to find on their Pokeno cards.
Simple Card Games
Finally, if you want your residents and family members to be able to come and go as they wish, then consider setting up your game tables with a different card game at each table. For example, use card games that participants may already know how to play, like Uno. You can also plan some games that they can easily learn how to play on their own. Below are a few we recommend.
About Not Just Bingo: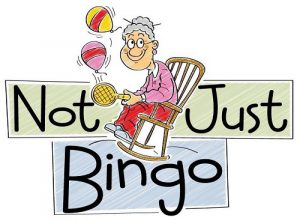 Not Just Bingo is an online resource of fun, senior activity ideas for activity professionals of nursing homes and assisted living facilities. They have been providing fun activity ideas online since 2009, and continue to assist activity professionals across the country by creating meaningful and engaging activity ideas for their residents that go "beyond bingo." Not Just Bingo feels privileged to help activity directors better the living experiences of their residents while demonstrating that a senior's quality of life can actually improve when they move to a nursing facility!
Want even more ideas each month? Visit www.notjustbingo.com for how-to activity ideas, monthly newsletters, and daily holiday ideas. You can also sign up for the Notjustbingo Membership to receive specialized activity ideas to keep your residents and staff engaged, active, and having fun!