Treat your residents to a fun week of Oscar glamming as you get them excited about the 91st annual Academy Awards Presentation on February 24th. Add in fun activities throughout the week to keep the Oscar buzz going.
Host an Awards Gala – Host your own awards show and hand out awards for "Friendliest Resident" or "Best Exercise Participant" to deserving residents. Pass out trophies to the award recipients.
Hollywood Star Singalong – Pop lots of popcorn and invite residents to join in and sing along to their favorite Hollywood stars as they watch a DVD containing dancing and singing.
Decorate for the Big Night – Recruit residents to assist you with adding star decorations and a red carpet runner for a fun Academy Awards nightcap.
Ask Movie Trivia – Use movie trivia cards to test the knowledge of your residents about famous movie stars and their movies.
Call Celebrity Bingo – Play a fun game of celebrity bingo with residents. Pass out the bingo cards that contain the faces of famous Old Hollywood actors and actresses and encourage residents to correctly identify the celebrity that you are describing by placing a bingo chip on their image.
Play a Finish That Movie Line Game – Invite a large group of residents to participate in a movie line game. To play, simply read the beginning of a popular movie line and ask residents to finish the line for you. If you are conducting a one-on-one or small group activity, simply place the foam tiles, which contain a part of a famous movie line, on a table for residents to try to match the beginning of the lines with the ending of the lines.
About Not Just Bingo: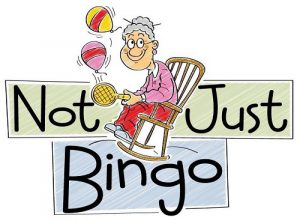 Not Just Bingo is an online resource of fun, senior activity ideas for activity professionals of nursing homes and assisted living facilities. They have been providing fun activity ideas online since 2009, and continue to assist activity professionals across the country by creating meaningful and engaging activity ideas for their residents that go "beyond bingo." Not Just Bingo feels privileged to help activity directors better the living experiences of their residents while demonstrating that a senior's quality of life can actually improve when they move to a nursing facility!
Want even more ideas each month? Visit www.notjustbingo.com for how-to activity ideas, monthly newsletters, and daily holiday ideas. You can also sign up for the Notjustbingo Membership to receive specialized activity ideas to keep your residents and staff engaged, active, and having fun!