Celebrate Sundays in your nursing facility as a day full of fun spiritual activities that help residents relax and enjoy. Here are 9 resources from notjustbingo to add to your Sundays for spiritual activities for your residents.
1. Sunday School Trivia
On Sundays, host a weekly Bible trivia contest. Encourage competition among the residents by having different groups compete against one another, like the men vs. the women, or the 1st floor vs. the 2nd floor.
2. Wooden Mezuzahs
To be ready for Passover, invite your Jewish residents to decorate their own wooden mezuzahs to place over their doors for the holiday.
3. Bible Bingo
Help your residents learn more about the Bible while playing a fun game of Bible Bingo. To play, read the Biblical facts and have residents find the picture on their bingo cards.
4. Bible Word Search
Copy pages from a Bible word search puzzle book to pass out to residents to complete. Award a prize to the first resident who finds all the Biblical people, places, and events in the word search puzzle.
5. Bible Verses
As a one-on-one activity, read through a Bible verse picture book with your resident, sharing the scriptures and inspirational photos. During the activity, be sure to reminisce with your resident about their past spiritual rituals on Sundays.
6. Cross Pendants
Set up a Sunday afternoon crafts activity for residents to make cross necklaces. Encourage residents to be creative in choosing colorful beads to make the crosses for the necklaces. They can also choose to make rosary beads. Then donate the finished projects to a local Sunday school class or start a fundraiser.
7. Bible Story Paintings
Invite the grandchildren to assist residents with painting Bible story paintings. For the easy activity, simply dip paintbrushes into water and apply the water to the paintings to reveal the beautiful paint colors. Afterwards, encourage residents to explain the Bible story that is depicted in the paintings to their grandchildren.
8. Hymn Sing Along
Host a weekly hymn sing along for residents, where they can sing along to the hymnal CD using large-print lyric books. Invite your weekly attendees to participate in a Sunday Choir activity once or twice a year, where you host a Sunday choir performance for residents to sing for their family members.
9. Nature Sounds
Help residents meditate to the calming sounds of nature by playing a nature CD in your Activity Room. Encourage residents to stop in to sit and relax while listening to sounds of trickling water and ocean waves.
---
About Not Just Bingo: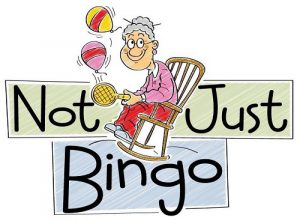 Not Just Bingo is an online resource of fun, senior activity ideas for activity professionals of nursing homes and assisted living facilities. They have been providing fun activity ideas online since 2009, and continue to assist activity professionals across the country by creating meaningful and engaging activity ideas for their residents that go "beyond bingo." Not Just Bingo feels privileged to help activity directors better the living experiences of their residents while demonstrating that a senior's quality of life can actually improve when they move to a nursing facility!
Want even more ideas each month? Visit www.notjustbingo.com for how-to activity ideas, monthly newsletters, and daily holiday ideas. You can also sign up for the Notjustbingo Membership to receive specialized activity ideas to keep your residents and staff engaged, active, and having fun!