Once Christmas comes and goes, don't worry about putting away your Christmas trees. Instead redecorate them for the new year! Use several of the following 8 items that you can add as "ornaments" to transform your Christmas trees into New Year's trees.
Glitter Hats
Make your New Year's tree shine by sticking several glittery hats into the branches. Add the different colored hats to the tree to add pops of color throughout.
Silly String
If you want to make a statement with a New Year's tree, be sure to add colorful silly string as a final touch on the tree. Your residents will have lots of fun spraying the tree, and the end result will evoke a fun, festive, party-like atmosphere – perfect for the new year.
Sequin Party Masks
Add a bit of mystery to your new year tree by inserting colorful sequin party masks throughout the tree. Use twist ties to attach the masks to the ends of the tree's limbs so that the vibrant masks are not covered by the greenery.
Glitter Tiaras
Since you can't have a New Year's celebration without a glitter tiara, be sure to add a few to your tree. In fact, consider making one of the tiaras the tree topper of your New Year's tree.
Noisemakers
Attach colorful foil noisemakers to your New Year's tree, allowing you to add various colors throughout the tree.
Colorful Balloons
Don't forget the balloons! Inflate several jewel-tone balloons to stick in the open spaces of your tree to make your New Year's tree even more festive.
Stars
Make your tree sparkle by adding a few gold or silver stars throughout. A star would also work well as a tree topper.
Party Horns
Finally, add clusters of party horns to your New Year's tree, and encourage passersby to take one for their New Year's celebrations.
Find more ideas from Notjustbingo on the S&S blog here.
---
About Not Just Bingo: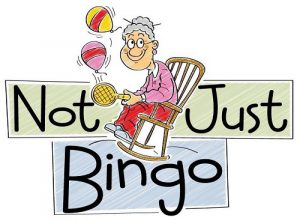 Not Just Bingo is an online resource of fun, senior activity ideas for activity professionals of nursing homes and assisted living facilities. They have been providing fun activity ideas online since 2009, and continue to assist activity professionals across the country by creating meaningful and engaging activity ideas for their residents that go "beyond bingo." Not Just Bingo feels privileged to help activity directors better the living experiences of their residents while demonstrating that a senior's quality of life can actually improve when they move to a nursing facility!
Want even more ideas each month? Sign up for the Not Just Bingo Membership to receive specialized activity ideas to keep your residents and staff engaged, active, and having fun!