With summer at its hottest during July and August, be creative with how to keep your residents cool during the summer. Try out a few of these afternoon treat parties at your facility.
Popsicle Run
Grab a box of small popsicles and go on a popsicle run through your facility, passing out popsicles to passersby. During the summer, consider having a themed popsicle run each week that's features a different flavor, like grape, cherry, and lime.
Snow-Cone Bar
Turn an area of your Activity Room into a snow-cone bar, and invite residents to stop by to sample the snow cones. Make the snow cones to order using snow-cone cups, snow-cone syrup, and crushed ice. If you have diabetic residents, use sugar-free syrup so that all your residents can enjoy.
Homemade Ice Cream Truck
Go door-to-door serving a scoop of your homemade ice cream using your activity cart as the ice cream truck. Make homemade ice cream for your residents, like a French vanilla or a banana ice cream. Be sure to include several toppings to offer your residents, like chopped nuts, sprinkles, and chocolate chips. In addition, if you would like to get your residents involved in the ice cream making, use a ball ice cream maker, in which residents can get their exercise as they are combining the ice cream ingredients each time they pass the ball.
Water Shots
Fill a tray with Dixie cups of cold water and encourage residents to take a shot of water. Instead of plain water, use lemon or lime flavored water for the shots.
Puddin' Party
Send out invitations for residents to stop by the Activity Room to sample the week's featured pudding. Coordinate with Dining Services to serve one of your residents' favorites, like tapioca pudding, rice pudding, or simple chocolate pudding.
Build-an-Ice-Cream-Sandwich Shop
Set up shop in your Activity Room for residents to build their own ice cream sandwiches. Have a variety of different cookies, like graham cracker, chocolate chip, and sugar cookies, for residents to choose from. Then have a few ice cream flavors for residents to try out. Assist residents with scooping their chosen ice cream and placing it in between the two cookies.
About Not Just Bingo: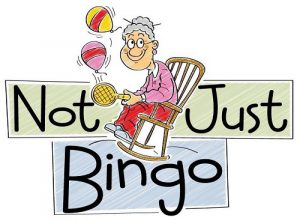 Not Just Bingo is an online resource of fun, senior activity ideas for activity professionals of nursing homes and assisted living facilities. They have been providing fun activity ideas online since 2009, and continue to assist activity professionals across the country by creating meaningful and engaging activity ideas for their residents that go "beyond bingo." Not Just Bingo feels privileged to help activity directors better the living experiences of their residents while demonstrating that a senior's quality of life can actually improve when they move to a nursing facility!
Want even more ideas each month? Visit www.notjustbingo.com for how-to activity ideas, monthly newsletters, and daily holiday ideas. You can also sign up for the Notjustbingo Membership to receive specialized activity ideas to keep your residents and staff engaged, active, and having fun!