When providing activities for your nursing facility's residents, it is a good idea to include a variety of activity types that will appeal to different interests. Our friends at notjustbingo have shared several activities to consider for your senior program:
Social
Play fun conversational games and ice breakers like Table Topics and Word Teasers
Organize Story Telling Activities in which each participant uses their imagination to create fun and interesting stories
Add daily, afternoon socials for residents to socialize with one another
Spiritual
Contact local religious leaders to perform religious services at your facility for your residents
Provide spiritual singing activities, like hymn sing-alongs
Organize a Meditation Club, in which you practice meditation with residents, or a Bible Study Club, in which residents regularly read passages of the Bible together
Physical
Get your residents moving with fun exercises that uses props like Parachutes or even Resistance Bands
Add dance breaks to encourage residents to move, or supplement your regular Exercise Class with a Chair Fitness session
Schedule weekly walks through your facility. Include outdoor nature walks or even an indoor walking tour to show-off the parts of your facility that your residents do not normally see (e.g., kitchen tour)
Reminiscing
Reminisce with residents using photos of well-known people, like downloaded photos of Old Hollywood actresses
Use Reminiscing Books that contain common sayings or even nursery rhymes that can spark your residents' recollection
Invite residents to bring their family photos and mementos for a fun reminiscing activity for them to share information about their lives with others
Tactile
Plan fun arts and crafts projects that are seasonal like this Snowman Box Craft or that can be made and given as gifts like this Wooden Photo Frame Craft-Kit
Recruit residents to assist with administrative projects, like stuffing envelopes
Create a Dining Room Club to have residents assist with folding napkins. Consider giving a napkin-folding class to teach residents how to make different napkin animals
Educational
Invite speakers to lecture to residents about interesting topics by hosting a monthly Speaker Series
Host a special how-to class in which you teach residents something new
Schedule interesting documentaries that appeal to your residents' interests like an art history video or an animal documentary
Cognitive
Host activities with fun competitions using Trivia or even
Plan daily current events activities using your local newspaper
During this presidential debate season, schedule political discussions about hot-button social issues
Community
Look within your community to help your residents fill a need, like collecting donated school supplies for a local elementary school class
Set up several drives (like a food drive or a clothing drive) during the holidays
Recruit residents to become involved in your facility's Resident Council meetings
Sensory
Appeal to your residents' senses with visual games like
Incorporate games that involve different textures, like making bean bags for a bean bag toss
Make homemade musical instruments, using plastic bottles and dried beans or rice, for residents to use during musical performances
Outing
Take residents on fun scenic drives
Plan trips to local museums
Coordinate visits to other nearby nursing facilities (possibly a sister facility) where your residents visit to play bingo with their residents
Musical
Teach residents how to play musical instruments (like piano lessons on your facility's piano)
Schedule musical activities and games like Music Bingo
Use online videos to share music with your residents during one-on-one visits
Family
Host special events and invite family members
Recruit family members to volunteer with some of your activities
Use your arts and crafts activities for residents to make gifts (like Hanukkah or Christmas gifts) for their family members
Do you recommend another type of activity that you use for your senior program?

Find more ideas from Notjustbingo on the S&S blog here.
---
About Not Just Bingo: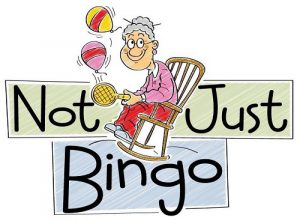 Not Just Bingo is an online resource of fun, senior activity ideas for activity professionals of nursing homes and assisted living facilities. They have been providing fun activity ideas online since 2009, and continue to assist activity professionals across the country by creating meaningful and engaging activity ideas for their residents that go "beyond bingo." Not Just Bingo feels privileged to help activity directors better the living experiences of their residents while demonstrating that a senior's quality of life can actually improve when they move to a nursing facility!
Want even more ideas each month? Visit www.notjustbingo.com for how-to activity ideas, monthly newsletters, and daily holiday ideas. You can also sign up for the Notjustbingo Membership to receive specialized activity ideas to keep your residents and staff engaged, active, and having fun!