MyPlate is the USDA food symbol that illustrates our five food groups into a familiar image for kids. It represents a place setting for a meal. These five food groups are the building blocks for a healthy diet and MyPlate helps by prompting consumers on how to build a healthier plate.
We love this organization and everything they do to inspire healthy eating habits, so to celebrate National Nutrition Month for March, we want to show you 8 of our favorite products.
The perfect reminder to make USDA-recommended food choices! Kids color their own "table setting" with then add food stickers to the appropriate food groups.
This easy-to-play game teaches USDA-recommended portion sizes. Laminated bingo cards depict foods and drinks in 5 categories: grains, vegetables, fruits, dairy and protein. Read a clue card and players cover the picture of the food they think is the answer.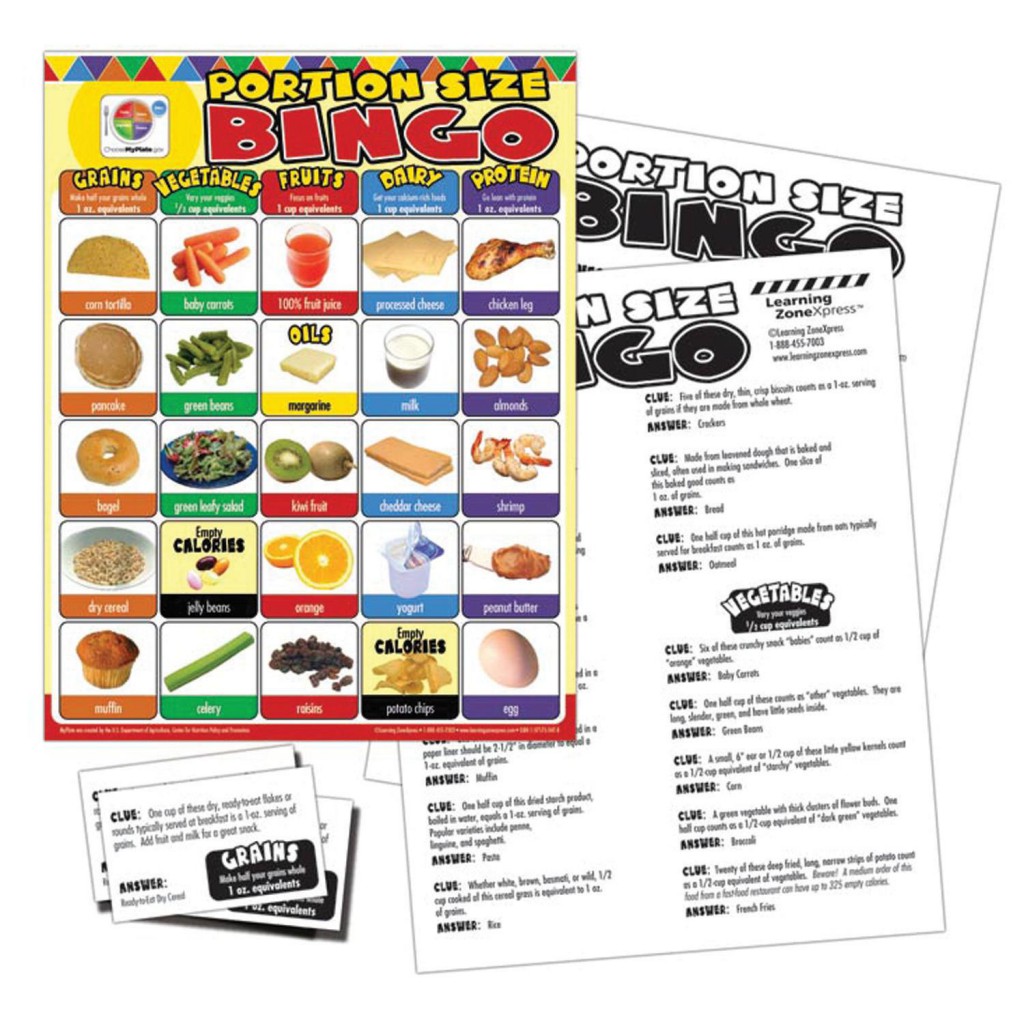 Help your group learn about nutrition and balance their diets with this large poster! Made from non-tear, washable vinyl fabric with double thick edge and metal grommets in all four corners. Graphics depict the USDA MyPlate graphics and 10 tips for filling your plate wisely. Designed to hang on a wall, but you can also use it as a fun brain break game and have it be a beanbag target!
Fun, friendly food characters deliver the message of balancing good foods with physical activity. This large, easy-to-read banner is based on the USDA's MyPlate food guide. Perfect for preschool and primary grades. Kid-sized portions of healthy food choices are shown on each food group section of MyPlate. It's a colorful healthy choice reminder that you can put in a cafeteria, gymnasium or any other large space.
These posters highlight each of the 5 food groups found on the USDA's MyPlate guidelines, plus a Physical Activity poster. Vibrant eye-catching images are paired with motivational phrases to encourage healthy living. Set includes Grains, Dairy, Fruits, Vegetables, Protein and Activity posters. Appropriate for Grades 1 to adult. Set of six 18″ x 24″ laminated posters.
Be the first to fill your plate with a balanced meal that follows the USDA's guidelines. Food cards with real life photos are self checking, backs match food groups. Includes activity guide, 50 food cards, spinner and 4 placemats. For 2 to 4 players, grades Pre-K and up.
Want all of the essential materials to get your Fitness and Nutrition program up and running? This pack includes a Yoga and You CD and DVD set, games that feature the USDA's new MyPlate nutrition guidelines, a movement Toss 'n Talk-About® Ball, and a bulletin board set and accents to reinforce your program benefits! Better foods + more movement = increased metabolism and energy!
---
For more Nutrition Month ideas click here!
You'll find a fun game called Jumbo Nutrition Island, a game like Candy Land® Game but with a Healthy Twist! Plus, we've shared a printable Nutrition Month Bucket List!