Out the door in 24 plus Free Shipping on orders over $59 !
Use Code: W3355
See Details
Sign up for
Deals & Coupons!

Step 1: Follow Us on Pinterest.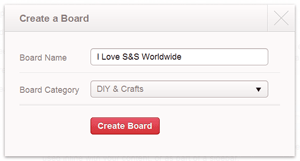 Step 2: Create a Pin Board titled
"I Love S&S Worldwide".
Profess your love for S&S Worldwide by creating a Pinterest Pin Board with the exact title of "I Love S&S Worldwide". We also suggest placing it in the category of "DIY and Crafts".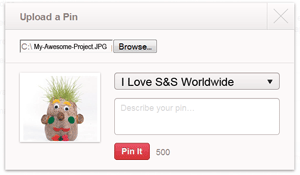 Step 3: Show Off Your Creativity.
Show off your most creative (think funny, unique, interesting) projects using S&S Worldwide products by pinning them to your new pin board. You can post as many projects as you wish into your new pin board- the more the merrier. We'll be choosing our winners based on what makes us smile, LOL, cry, or think, the most- so don't hold back.
Step 4: Tell Us About It.
Now that you're done showing off, tell us about it by filling out this form. This will also serve as your official entry into the contest.