Out the door in 24 plus Free Shipping on orders over $59 !
Use Code: W3355
See Details
Sign up for
Deals & Coupons!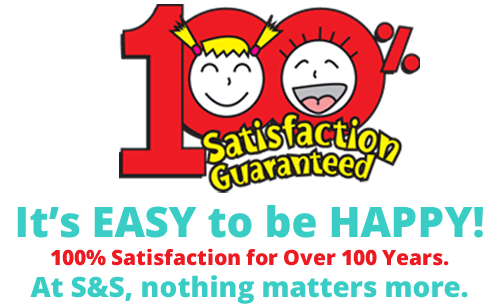 We want your entire experience with S&S to be Easy – That goes for returns, too.
Call Customer Service at 1-800-937-3482 or email
HyandAdam@ssww.com
and we'll make it right!
Hy and Adam Schwartz
Co-presidents
Easy Returns:
When it comes time to make your return, we want you to jump through as few hoops as possible … but there may be a couple. It's still WAY better than waiting in line.
We can only accept returns in their original condition. Sorry, health requirements prohibit us from taking back food, personal hygiene products or clothing that has been worn, soiled or used.
If your item was a Drop Ship or shipped by Truck, please contact Customer Service at 1-800-288-9941 or cservice@ssww.com for return instructions. They may have shipped directly from the manufacturer and require special return processing.
If none of this applies to your order, Great – You're almost there! Just take a look at your packing slip for return instructions. If you can't find your packing slip, please provide us with your full name, address, telephone number, order number and/or account number, so we can quickly take care of this for you.
Please ship your return package to S&S by UPS, Federal Express or Insured Parcel Post.
Now that wasn't so bad, was it?
Click here for a printable return label
.