Sign up for
Deals & Coupons!
The Lost Sheep
written by Carolyn Warvel
Scripture References: Story Reference: Luke 15:3-7
Printable bible phrase cards: Print out onto card stock, cut apart, and send home with each child. KJV - (Large file or small file), Blank Card - (Large file or small file)
Teaching concepts: Jesus loves you and wants you to be good. When you do bad things it makes God very sad, but God will not leave you. He will keep calling you back to him. When you ask God to forgive you, God is very happy and will forgive you.
---
Early Arrivals Activity
1. Children who arrive early can color the animal cards used in the "Find the Lost Sheep Game" below.

2. Make a Cotton ball sheep. Have your children color a picture of a sheep and then glue cotton balls, fiberfill, popcorn, noodles painted white, or crinkled up white tissue paper onto the sheep's body. You can also have them glue on foam flowers and leaves. A pattern for this activity sheet is available on Danielle's Place Resource Room for members only.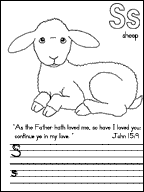 3. Practice printing and writing - This lesson was designed to go along with ABC worksheets using the Bible verse. Children practice writing the letter S in print or cursive or write the complete verse in cursive. (A pattern for this worksheet is available to members of Danielle's Place Resource Room.)
---
The Lesson and Activity
Preparation: Before class hide a stuffed sheep toy somewhere in the class where the children won't find it until lesson time. If you can go outside for this lesson, hide the sheep outside. (If you don't have a good place to hide the sheep in the room until story time, just have someone hide him in a purse or bag until the children start looking for him.) Give them a little time to look and then pull out the sheep and pretend that you have found him.
Have a teacher come into the room dressed like a shepherd. The shepherd should yell, "Woolie, where are you?" and start looking around the room. Then he should look down and notice the children. He can say something like, "Oh, Hi, I'm a shepherd. I have 100 sheep in my flock but today when I counted them I only could find 99. I realized that my little sheep, Woolie, is missing. I love all my little sheep very much and I could not stand it if I lost any of them. I have been looking for my little Woolie all morning and can't seem to find him. He must be really hungry and scared by now. Do you kids think maybe you could help me find him?" The shepherd and other teachers should start looking for the sheep around the room. The children will follow. The shepherd and other teachers should start calling for the sheep saying, "Woolie, come out, come out, wherever you are!" and "Woolie, I miss you." and "Woolie, Where are you?" When the sheep has been found, the shepherd should act very happy and hug the little sheep. He should say something like, "I'm so glad I found you, Woolie! I will always love you!" Then the shepherd should have all the children sit down in a circle and say, "This reminds me of a story I read in the Bible. Do you want to hear it?"
The story: One day Jesus told this story to a group of people who were following him. He told them that a shepherd had 100 sheep. He would count them every night. One night the shepherd only counted 99 so he left the 99 sheep and went looking for his little lost sheep. He looked everywhere and he didn't give up until he found it. He was so happy when he found his little lost sheep that he invited all his friends to his house to have a party to celebrate finding his little sheep.
Jesus told the people this story because he wanted them to know how much God loved them and cared for them. He was telling them that God is a lot like the shepherd in this story. When you do bad things you become lost from God it makes him very sad. God cannot be around sin. But God keeps calling you back until you find your way. When you ask God to forgive you for the bad things you do, he is so happy because he can be near you. God and all the angels in heaven celebrate and have a party when you ask God to forgive you. Let's pray and ask God to help us be good and to forgive us for the bad things we do.
---
Prayer
Father, We thank you for your loving kindness, for caring about us, and forgiving us when we ask for your forgiveness. Amen
---
Snack Time
Now let's have a party right now to celebrate finding my lost sheep! Hand out balloons (don't give them to very small children), snacks, and a drink.
Copyright 2000 by The Resource Room Danielle's Place of Crafts and Activities
Danielle's Place