Sign up for
Deals & Coupons!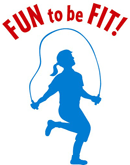 FUN to be FIT! Conquer the Obesity Epidemic
Obesity is a serious health concern for children and adolescents. The American Heart Association (AHA) is now stating that 25 million children and adolescents (age 2-19) in the United States are overweight or obese - that's nearly 1 in 3 American children. S&S® Worldwide is committed to helping fight childhood obesity with health & fitness products and free activity resources that make it FUN to be FIT!
Janice Williams, Washington D.C. YMCA
Video Length:
01:48
S&S
®
Worldwide, Janice Williams (D.C. YMCA), and First Lady, Michelle Obama help fight childhood obesity.
More Fitness Videos on SchoolTube:

Hoops- S&S Worldwide

Scarves- S&S Worldwide
Stretch those Legs... Stretch those Brains!
Can getting in shape really help kids get smarter? Research shows that a little activity goes a long way. It can improve attention spans, memory and learning while minimizing stress and the effects of attention-deficit hyperactivity disorder!

I guess you could say you're as likely to find our future scholars on the playground as you are to find them curled up with a book at the library. What exercise does is actually ramp up a child's brain development.

A 2007 study by the Journal of Sports & Exercise Psychology found that a group of 3rd and 5th graders in Illinois who did standard exercises like push-ups and running
had higher math and reading scores on the Illinois Standards Achievement Test!
The obesity trend among children is still alarming, but now their academic success may really hinge on shaping up.
But how do you get kids excited about exercise?
That's where S&S
®
comes in. Jumping jacks have their place, but savvy educators know that it's time to take a different tack.
"Exergaming" is fast becoming the physical activity of choice for kids. We offer a variety of Dance Dance Revolution? Fitness Systems that they LOVE to play. Some even incorporate the Nintendo
®
Wii
™
with games featuring their favorite stars from the Disney
®
Channel!
Obesity-Prevention and Kid Fitness Resources

From PE Central, PECentral.com, PECLogit.org
PE Central is the premier site for health & physical education teachers, parents and students. Their goal is to provide the latest information about developmentally appropriate physical education programs for children.
Click Here
Pe Central's Log It is a FREE pedometer step and mile recording program for kids 3rd grade and up. It encourages kids to be physically active, step by step.
Click Here

From NASPE and Hershey's? Track and Field Games
Six lessons you can use with your upper elementary physical education students to improve their skills and prepare them for a safe and fun-filled event!
Click Here (PDF)
Host Hershey's? Track & Field Games as Part of Your School's Field Day Events.
Click Here (PDF)

From Teacher Planet, TeacherPlanet.com
Dozens of quality obesity-related resources collected from around the web.
Click Here

From Let's Move (headed by First Lady Michelle Obama)
White House Task Force on Childhood Obesity Report to the President
Click Here
Browse Our Fitness, Exercise, and Exergaming Products