How can you keep Bingo games fun and interesting at your senior facility? Try these three ideas to keep you and your residents interested in a game that can become monotonous.
Step 1: Change Your Bingo Patterns
For each one of your bingo games, provide a different way for residents to win by introducing a new pattern. There are several common patterns, like Four Corners and Cover All. But why not add in a few new patterns? Some we have shown below include Airplane, Checkmark, or Pyramid. To print these, view our easily printable download here.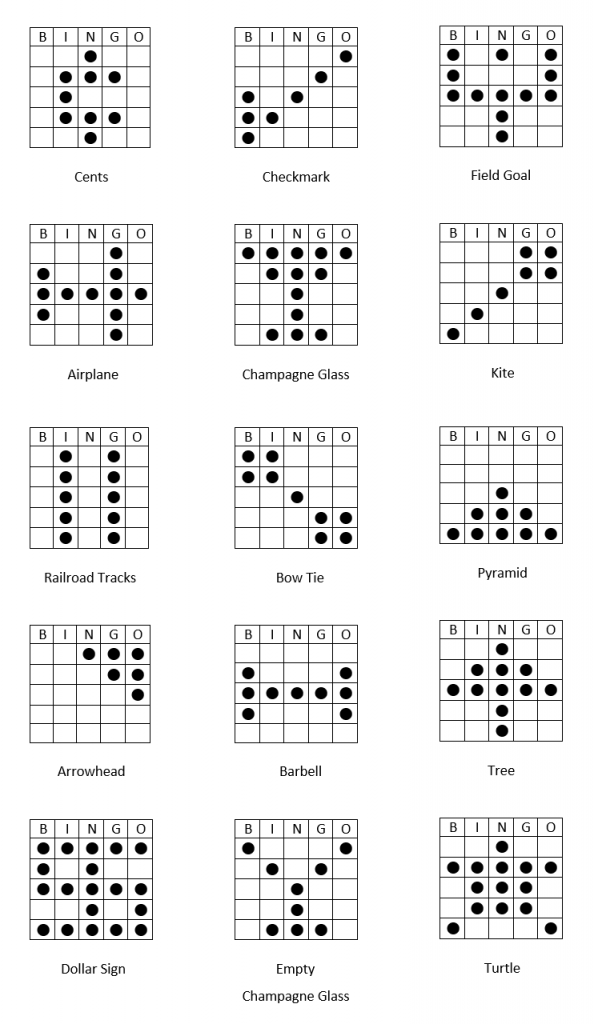 Step 2: Move Around
So now that you are using different bingo patterns, consider adding in this second step to get the blood flowing again. Implement a fun new twist to your bingo games in which residents have to swap seats during the game, thereby giving up their bingo cards and taking on someone else's bingo cards.
For example, ask all the people who are wearing red to change seats, or ask all the men to swap seats. By spending just a few minutes swapping seats, the energy in the bingo room immediately elevates.
Another bonus, if you are short on bingo prizes, is that the several minutes that are being used to change seats means that there are fewer bingo games during the allotted time, and therefore fewer bingo prizes to hand out – allowing your stash of bingo prizes to last just a little while longer!
If this mid-game or after-game switch would not work for you or your residents, then consider having a game plan before the residents enter the room. For instance, seat all the people who were born in July at the same table, or all the people who lived on a farm at the same table. Switching things up a bit for each bingo activity allows people to get to know one another and can also create a great energy or buzz in the room – thereby keeping you awake!
Also, you don't have to have everyone grouped together, because we all know there will always be a resident or two who wants to sit in "their bingo seat." So an option could be to dedicate just a few of the tables for the groupings. Here are a few categories to try-out at your next bingo activity:
Residents from the West Coast
Residents who like black licorice (this may be a small table)
Residents who were born at home
Residents who have seen the Statue of Liberty in person
Residents who still have a current driver's license (hopefully this is a small table)
Residents with five or more grandchildren
Be sure to pick a new category each time, and have fun with it!
Step Three: Take a Break
So there's just one more step to get you interested again in calling bingo. If you're zoning out from all the monotony, then this third step should help you get focused again:
At the mid-point of the bingo activity, about 20 to 30 minutes into the activity, take a 2-minute break with your residents to do something fun. For instance, have a bell at your table that you ring while you call out "Seventh Inning Stretch." Then invite residents to stretch and sing "Take Me Out to the Ballgame."
Another option is to ring the bell and pass out water for a water break – which will make your facility's nurses happy since you are incorporating hydration into your activity.
In addition, if your residents enjoy music, then spend the few minutes playing a Frank Sinatra tune and asking volunteers to stand up and dance. Whatever you decide to do, just make sure that your residents know that it's just for a few minutes, and that they will return to playing bingo.
Find more ideas from Notjustbingo on the S&S blog here.
About Not Just Bingo: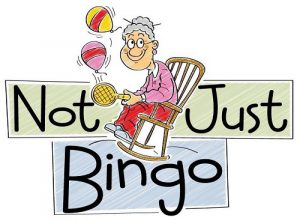 Not Just Bingo is an online resource of fun, senior activity ideas for activity professionals of nursing homes and assisted living facilities. They have been providing fun activity ideas online since 2009, and continue to assist activity professionals across the country by creating meaningful and engaging activity ideas for their residents that go "beyond bingo." Not Just Bingo feels privileged to help activity directors better the living experiences of their residents while demonstrating that a senior's quality of life can actually improve when they move to a nursing facility!
Want even more ideas each month? Sign up for the Notjustbingo Membership to receive specialized activity ideas to keep your residents and staff engaged, active, and having fun!