"We love this game Coach"! I love hearing my students tell me how much fun they had while they are exercising. Watching my students leave with a smile on their face and sweaty heads is their best way of saying "Job well done Coach". I found another activity that did just that this week and wanted to share with my PE friends out there.
We have such a small but amazing community at New Georgia Elementary. We have approximately 300 wonderful students, an amazing staff and amazing parents. Two weeks ago, two of my students walked in with big smiles on their faces and four awesome cornhole boards. We are truly blessed to have so many supportive parents donate their times and efforts to help make our school amazing. I was also very lucky to have had a company called Project Fit donate some plastic cups for my students to use in class and they have been a big hit.
I couldn't wait to put them to use, but as you know Cornhole tends to be a fun game to play at the beach, but it's not a very active game. I racked my brain all weekend and finally came up with a plan that I was going to try. It's an activity called Cardio Cornhole! Hope your kids enjoy it as much as mine did!
How to Play Cardio Cornhole
Thanks to some awesome NGE parents for building and donating four awesome cornhole boards as well as @fitamerica for donating the Project Fit cups – we were able to play "Cardio Cornhole" this week in PE. Stay active and have fun doing it! Love my job! pic.twitter.com/5AccYdHvLD

— Marty Carter (@ngbulldogspe) August 20, 2018
Equipment: 
Layout:
When I have this setup, I call it "Coach Carter's Funhouse". When my kids walk in and see the bunch of big orange cones around the perimeter of the gym they know it's on in the Funhouse that day! I walk my students in and we enter through my "front door" of the Funhouse where the action begins. Basically, I cut a green Hula Hoop, use two hula hoop support stands and two green buckets (to make it taller for them) and made a tunnel for them to walk under. Once we enter the Funhouse, I explain to them we will be playing the game Cornhole in the Funhouse today and working on our underhand tossing skills. I have my four new cornhole boards setup inside the "Funhouse" or inside perimeter of the gym along with color matching cones, buckets and bags. I explain to them that I allowed them into the Funhouse for free for their first game. I then explain to them that when they go to fair or a circus they have to pay to play the games, and today they have to earn tickets to continue playing the Cornhole activity.
Instructions:
I split the students up into 3-4 groups depending on the size. You really need 5-8 kids on one team because they will get exhausted if teams are smaller than that. When the music begins, the first person on each team will stand up and underhand toss the bean bag toward the cornhole boards. That student must retrieve their bean bag and hand it to the next person in line. The first players game is now over and they must earn a ticket to play again. The first player on each team will now run out the "back door" – a red hula hoop that was cut similar to the green front door and retrieve their ticket to play again. Once they exit the "Funhouse" out the back door they will run around our running track which is just outside the big orange cones and head over to the "ticket box" that holds all the Project Fit cups. We use these cups as their tickets to get back in. The student then continues around the perimeter of the running track and finds their teams matching cone and they start stacking their Project Fit cups up into towers or whatever they decide. Once they stack their cups up, they have paid to get back into the Funhouse and may enter through the green front door and play again.
Here is how my tickets are earned:
Beanbag is on the floor – 1 ticket (1 cup)
Beanbag on the cornhole board – 2 tickets (2 cups)
Beanbag goes in the hole – 3 tickets (3 cups)
Some of the rules that I enforce:
Your team loses 10 tickets/cups from your team if you grab more cups than your supposed to
Your team loses 5 tickets/cups if you knock down my front door or back door
You don't get to collect your ticket(s) if you cut corners around the running track
And that's it – the kids do this for about 20-30 minutes and are exhausted by the end of class. I tell them they can get water anytime the music is playing because that is their time. They can also walk and catch their breath if needed but must keep moving so they can keep earning those cups and building up those big towers.
Team Work & Sportsmanship
I also encourage my students to circle up with their teams and "break it out" before we begin most activites. It can just be a simple "1,2, 3 go blue team" or whatever but I really try to emphasize teamwork. Also at the end of class, I always try and ask if anyone saw other students displaying kindness or good sportsmanship. This gives them a chance to make others feel good and encourages good attitudes and behaviors. Students love hearing their names called so they go out of their way to help, encourage and cheer on others in the class.
Thank you for taking the time to read my blog! I sure hope you guys enjoy the activity. I very am passionate about my job and love what I do. I also appreciate S&S for giving me the opportunity to return the favor for all the help and support the PE community has given me over the past few years. It feels good to be able to offer ideas and suggestions to others.
About the Author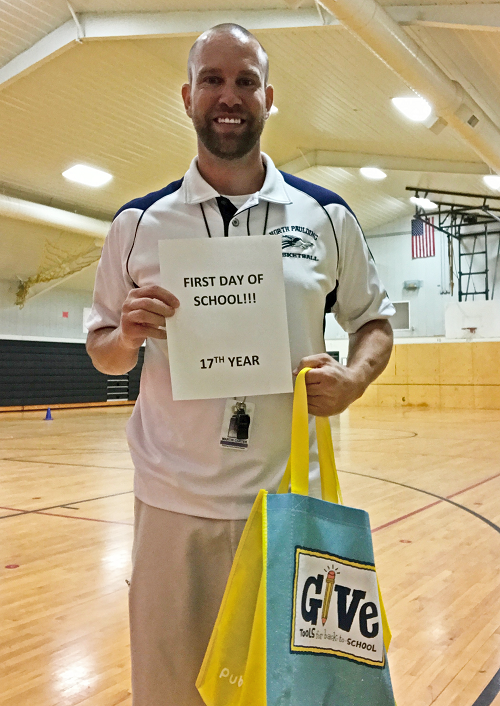 My name is Marty Carter and I am starting my 17th year teaching in Paulding County in Dallas, GA. I taught 14 years at the middle school level at Herschel Jones Middle School. I made some great memories there and made some lifelong friends that I will always be thankful for. I decided after 14 years that I wanted to make a change and was blessed that the administration team at New Georgia Elementary School took a chance on an "old crafty veteran" PE teacher who had never stepped foot in an elementary classroom before. I love my job and thankful for the opportunity. I owe a lot to my wife who rearranged her own work schedule to make this new job happen for me.
I also really owe a lot to my PE friends and family who helped me adjust the past few years. I didn't realize it was such a huge transition and I really struggled my first year or two at the elementary level. I am so thankful for all the local PE teachers who went out of their way to help me (you know who you are) and also very thankful I found Twitter and the PE community on there.
I am thankful to the New Georgia staff who welcomed me in with open arms and helped make the transition smooth. I work with some great people who are great at what they do!
Here is the twitter for Project Fit if you would like to contact them about getting some cups. My kids love them and they are a much better point keeper than popsicle sticks!
Feel free to follow me on Twitter (@ngbulldogspe) for more ideas and games.  Most of them are not mine but I have some great ones on there that I have "borrowed" from other PE greats! If you have any questions, please shoot me a message on Twitter (@ngbulldogspe) or email me at [email protected]