With Veterans Day fast approaching, begin planning a meaningful, yet eventful day for your nursing facility's veterans as you treat them like VIPs throughout the day. Also, these are great ideas activities to consider if you are honoring Veterans at your school or center that day. Our friends from notjustbingo.com, share with us how to make these heroes feel special:
Plan a Flag-Raising Ceremony. If your facility has a flagpole in the yard, schedule a flag-raising ceremony outdoors to raise the American flag. If possible, record and play the bugle call melody To the Colors as the flag is being raised.
Play an Army-Navy Game (or even an Air Force-Marines Game). Pick a favorite floor game, like shuffleboard or bowling, and invite the different military branch veterans to compete against one another. Be sure to award bragging rights to the winning branch of service.
Host a Veterans Day Speaker. Plan a visit from a local veteran to share his military experiences and stories with your residents.
Form a Veterans Story Circle. Organize a reminiscing activity for your veterans to share their military stories. Seat residents in a large circle and encourage each one to talk about their time in the military. If you have a large amount of participants, limit the discussion by focusing the story circle on just one topic, like when the veterans were drafted or the day they returned to U.S. soil. You can even create a Veteran themed Toss and Talk About Ball with this Create Your Own  Ball.
Schedule a Veterans Day Parade. Host a parade in your facility featuring your veterans. Beforehand, decorate the parade route with patriotic bunting and lots of red, white, and blue balloons. During the parade, stop each veteran along their march to quickly introduce themselves and share a little about their time in service. Provide the spectators along the parade route with mini flags to wave as they cheer on their veterans.
Organize a Care-Package Party. Recruit veterans to assist with assembling care packages for troops overseas. Ahead of time, take a trip to your local dollar store to pick up supplies to be assembled and packed up during the care-package party. 
Assemble Poppy Boutonnieres & Corsages. Make these paper poppies to use as boutonnieres for the men and as corsages for the ladies. 
Make Thank You Cards. Use paper and markers (link to: to create thank you cards to give to all the veterans (including staff members) in your facility.
Find more ideas from Notjustbingo on the S&S blog here.
---
About Not Just Bingo: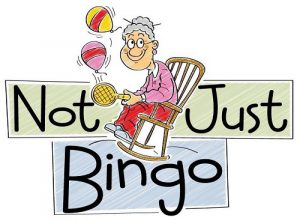 Not Just Bingo is an online resource of fun, senior activity ideas for activity professionals of nursing homes and assisted living facilities. They have been providing fun activity ideas online since 2009, and continue to assist activity professionals across the country by creating meaningful and engaging activity ideas for their residents that go "beyond bingo." Not Just Bingo feels privileged to help activity directors better the living experiences of their residents while demonstrating that a senior's quality of life can actually improve when they move to a nursing facility!
Want even more ideas each month? Sign up for the Notjustbingo Membership to receive specialized activity ideas to keep your residents and staff engaged, active, and having fun!