Provide reminiscing boxes for your staff members and volunteers to use for sensory activities or one-on-one visits with your residents with dementia. Check out these great ideas from notjustbingo.com.
Dementia Awareness Week is May 15th-21st!
Simple Reminiscing Boxes to Create for Your Residents With Dementia

Garden Box: Fill the container with
herbs or seed packets for residents to plant. In addition, include small tools and garden gloves for residents to show you how to use them. Use mini flower pots for residents to plant a few of the seeds.
Sewing Box: Supply a variety of colored thread for residents to reminisce about their sewing days. Use a thimble and pin cushion for demonstrations, and include a sewing pattern to ask residents to help you read it. Pack away plastic needles and encourage residents to use the needles to demonstrate how to sew. You can even provide easy-to-use plastic canvas sheets for residents to create their own designs.
Carpentry Box: Provide a tape measure to help residents take measurements. Provide a pencil and a ruler for residents to show how to mark a line, and include a small toolbox to encourage residents to name its contents, like wrench, screwdriver, and screws. In addition, collect a few small, wooden models for your residents to assemble using wood glue. Consider finding wooden models that reflect your residents' interests, like that of airplanes or even vintage cars.
Baby Box: Include a few baby clothes and a baby blanket for residents to feel. Use the noise of a rattle to bring back memories. In addition, include a baby doll and a diaper for residents to show you how to change a baby. Supply a baby bottle and pacifier for residents to demonstrate feeding.
Table Game Box: Recall the fun of playing Friday night poker or playing with a bridge club by using tokens from popular games. Add in a few poker chips and dominoes and have residents show you how to use them. Use a deck of cards for residents to deal to one another. Include a small pad of paper and pencil for them to demonstrate how to keep score.
Baking/Cooking Box: Provide small utensils like a whisk and wooden spoon, and a variety of cookie cutters. Add in pot holders and an apron to wear. Use a few spices to pass around for residents to smell. If available, include a small cookbook to reminisce about favorite recipes.
Military Box: Include a military medal and dog tag for residents to hold. Download
an old draft card and an old military poster to spark a conversation about being drafted. Add in a camouflaged item and a picture of a soldier.
Office Box: Supply a small container of paper clips and rubber bands, a stapler, and a writing pen. Use a necktie to start a conversation about getting dressed in the morning for work. Include a notebook and calculator for residents to demonstrate how to use.
Wedding Box: Provide a bow tie and a string of pearls to start a discussion with your residents about their wedding day. Include a garter and a wedding topper to discuss their wedding reception.
Jewelry Box: Keep a small jewelry box that contains a variety of colorful rings for your residents to try on. Include a necklace and a bracelet so they can reminisce about the jewelry gifts they've received over the years. Use sparkly hair pins, earrings, and brooches to catch their attention.
Vacation Box: Download a passport entry and chat about world travels. Include a pair of sunglasses for residents to try on. Add in a few postcards from popular American cities, as well a luggage tag.
Sports Box: Store sports memorabilia that feature iconic sports headlines to will ignite your residents' memories. Include a few sports items, like hats and key chains, which contain the logos of your local sports teams.
TIP: Use clear storage containers to keep the items in!
Find a wide selection of craft boxes for these Dementia Awareness projects at S&S!
---
About Not Just Bingo: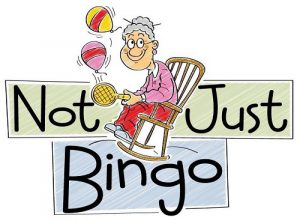 Not Just Bingo is an online resource of fun, senior activity ideas for activity professionals of nursing homes and assisted living facilities. They have been providing fun activity ideas online since 2009, and continue to assist activity professionals across the country by creating meaningful and engaging activity ideas for their residents that go "beyond bingo." Not Just Bingo feels privileged to help activity directors better the living experiences of their residents while demonstrating that a senior's quality of life can actually improve when they move to a nursing facility!
Want even more ideas each month? Sign up for the Not Just Bingo Membership to receive specialized activity ideas to keep your residents and staff engaged, active, and having fun!